Conveyancing solicitors in Warrington
Get peace of mind, with fixed price quotes and second chance guarantee
Complete your move up to two months faster than most other law firms
Rated Excellent on Trustpilot, trusted by thousands of people every year
Conveyancing in Warrington
Warrington, full of heritage from its past as an industrial hub, located conveniently between Liverpool and Manchester, continues to be a sought-after location for property investment. Its unique blend of Roman and Saxon history, coupled with the modern amenities and its position as a promising investment area, makes conveyancing in Warrington unlike any other. At Juno, we understand the unique blend that Warrington represents and leverage our local knowledge with our national coverage to provide succinct conveyancing services tailored specifically for Warrington.
Choose Juno for your Warrington Conveyancing
When it comes to conveyancing in Warrington, Juno is your go-to solution. Here is why you should consider choosing us:
Cutting-edge Efficiency: With our state-of-the-art technology and proactive legal team, we outpace the national average for conveyancing procedures by an impressive 8 weeks.
Online Suite: Monitor your case progression through our mobile-friendly online dashboard, facilitating tracking and communication at your fingertips.
Transparent, Guaranteed Pricing: You get what you pay for - no hidden extras or sneaky charges.
Excellent Reputation and Trust: Our 4.8/5 rating on Trustpilot is proof of our commitment to exceptional customer service.
The Juno Guarantee: We provide a second chance guarantee with your purchases, and operate a 'no completion, no fee' policy on sales.
National Coverage with Local Expertise: We combine our extensive nationwide expertise with a unique understanding of the Warrington market.
Trustworthy and Regulated: Our services are regulated by the CLC, thus assuring you of high-quality service.
Benefits of Online Conveyancing over Traditional Local Conveyancers
In our digital era, online conveyancing offers a much more comfortable option compared to traditional local conveyancers. Our service provides the benefits of national expertise while eliminating the need for paper document exchanges or physical meetings. With Juno, you can buy or sell a house entirely through the convenience of your mobile phone. From ID checks to contract e-signatures, the traditional exchange is made easier and faster through our digital convenience.
Our team of property experts provides regularly scheduled updates about your case's progression straight to your inbox, and offers robust phone support. Regardless of where you are within the UK, Juno ensures that you are covered with the assurance of experienced lawyers and tech experts making the conveyancing procedure a breeze.
Frequently asked questions
How does the conveyancing process work for buying a property?
You start by signing up for our services.
Next, prepare your mortgage and funding.
We'll then order and review search reports.
The seller's lawyer will send us a draft contract, the Land Registry records for the property, and a pack of information provided by the seller (Contract Pack).
We recommend all our clients get a survey done, in addition to any mortgage valuation.
We'll ask the seller's lawyer to clarify and/or fix any legal issues with the property (Enquiries).
A report on the property and the process will be drafted.
An exchange of contracts takes place.
Completion of the sale is the next step.
Finally, we'll handle the registration of your new property.
How does the conveyancing process work for selling a property?
Conveyancing for sellers involves the following steps:
Sign up for our services.
We'll draft a contract, obtain land registry records, and send it across to the buyer's lawyer (Contract Pack).
You'll be asked to provide detailed information and documents for the property you're selling. This entire process can be done online, and we'll send everything on to the buyer's lawyer (Property Information Forms).
If you're selling a leasehold, request a Management Pack from your management company.
We'll also need your up-to-date mortgage statements.
We'll handle any queries or clarifications (Enquiries).
An exchange of contracts will take place.
Finally, we'll complete the sale.
How long does conveyancing take in Warrington?
While the national average is 20 weeks, Juno is 8 weeks faster on average. Our firm averages 12 weeks to completion on a freehold. Leaseholds might take a bit longer as we'll often have to correspond with a management company. If both the seller and buyer use Juno for the same transaction, we usually complete 2-3 weeks quicker.
What searches are involved in conveyancing?
The key searches involved in conveyancing are local authority checks, environmental and water & drainage searches.
What issues should buyers consider when purchasing a home in Warrington?
Warrington is a historic town with a blend of old and new properties. Buyers should carefully consider the age and condition of the property, proximity to local amenities, transport links, and any planned development in the area.
What documents do I need to buy a house?
You'll need your photo ID (either a passport or driving license), proof of funds (from recent bank statements), and your mortgage offer.
What documents do I need to sell a house?
You'll need your photo ID (either a passport or driving licence) and details of your mortgage. Our legal team will guide you through creating or finding other required documents such as the Energy Performance Certificate (EPC), property information forms TA6 and TA10, and leasehold management packs.
Why should I choose Juno for conveyancing in Warrington?
Juno combines national reach with local knowledge, providing a tailored approach to conveyancing in Warrington. With our advanced technology and committed legal team, we complete conveyancing processes 8 weeks quicker than the national average. Also, we provide an easy-to-use online dashboard to track and communicate about your case.
What tech convenience does Juno provide?
Juno offers an online suite allowing you to monitor your case progression. You can check ID, sign contracts electronically, and receive updates straight to your email. This paperless process makes our service faster and more convenient for you.
Is it beneficial to choose online conveyancing over traditional local conveyancers?
Yes, online conveyancing with Juno covers the entire UK and delivers the same excellent service without the need for paper documents or physical meetings. You can complete the whole process from your mobile device, making conveyancing easier and quicker.
How much does conveyancing cost in Warrington?
Use our online tool to get an instant quote for conveyancing below:
Choose Juno for simpler, clearer, faster conveyancing in Warrington
Track progress and reply to questions with our mobile-friendly online dashboard
Targeted updates to help you and your estate agent keep things moving forward
Do everything online, including ID checks and e-signatures on contract documents
Get a dedicated team of conveyancers who'll keep you updated every step of the way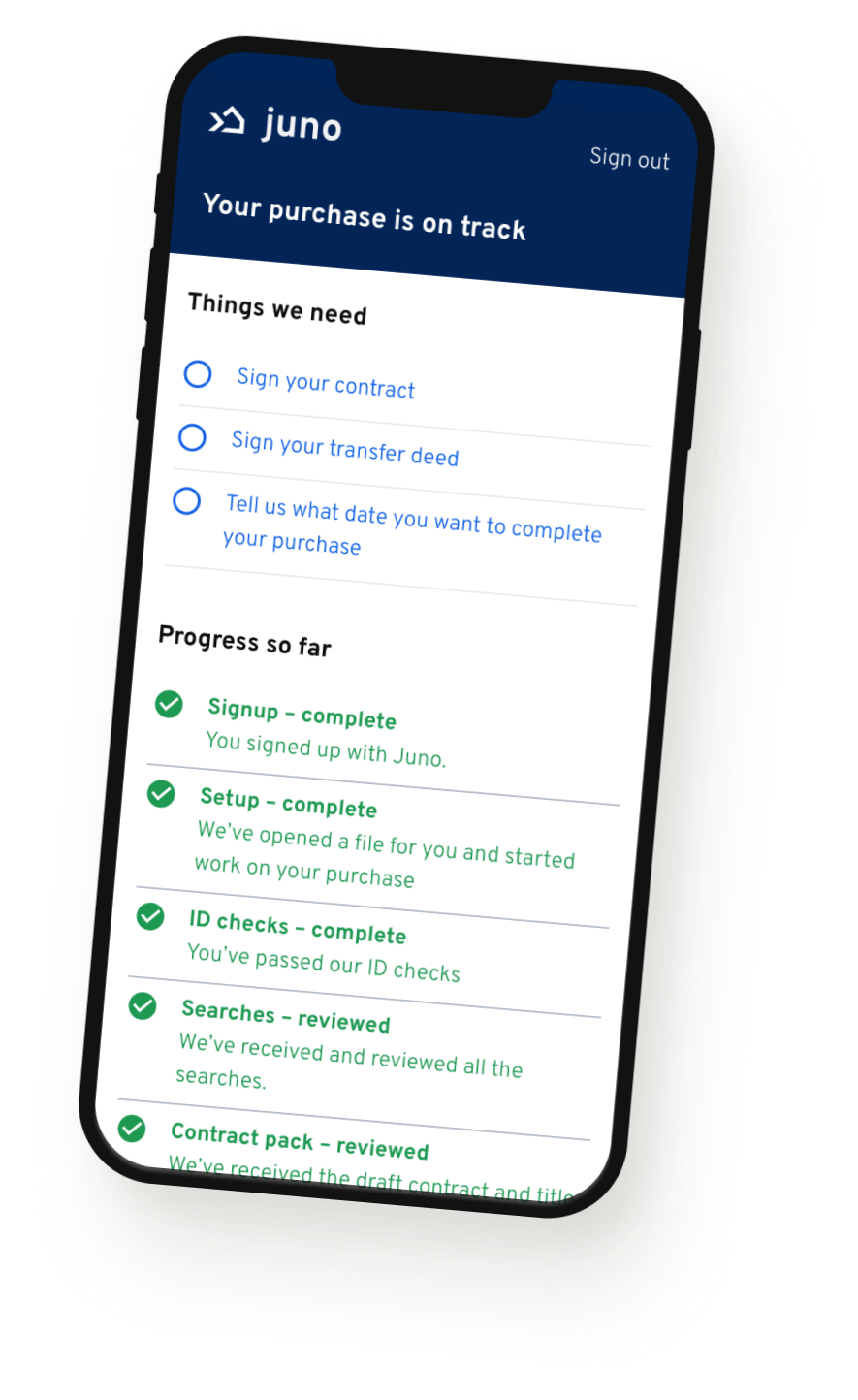 ⭐️⭐️⭐️⭐️⭐️
I had tried other conveyancers but was not very impressed. Like everyone the internet was next and Juno came up. Checked the reviews and they were positive. So I used them for the sale of my house. I am very impressed with them and the dashboard they use. They kept me up to date with the total experience. Very reasonably priced.
⭐️⭐️⭐️⭐️⭐️
The updates are regular by email, the dashboard is thorough, the documentation is so easy to load and access and when you do need to speak to them you can get them on the phone and they explain things properly. All that and they are a fantastic price, unbelievable to me that the service is provided at such a low cost.
⭐️⭐️⭐️⭐️⭐️
Best customer service I have received ever! Process was made simple, fast, conveyancing team knew what they were doing and the rest of the team always answered any question extremely fast. The dashboard system meant that we would receive regular updates without even needing to ask!