Conveyancing solicitors in Brighton
Get peace of mind, with fixed price quotes and second chance guarantee
Complete your move up to two months faster than most other law firms
Rated Excellent on Trustpilot, trusted by thousands of people every year
Conveyancing in Brighton
The dynamic and cosmopolitan city of Brighton and Hove, nestled on the vibrant southern coastline of England, is an extremely popular location for property transactions. With its vast array of attractive Regency-era homes, Victorian townhouses, and modern high-rise apartments, coupled with the magnetic appeal of its contemporary lifestyle, Brighton has become a hotbed for conveyancing. Whether you're selling an iconic, crisp white Regency townhouse, buying a contemporary sea-facing flat, or refinancing your Victorian cottage near the flamboyant Royal Pavilion, a diligent, efficient, and professional conveyancing service becomes paramount. That's where Juno comes in!
Why Juno for Conveyancing in Brighton?
You wouldn't settle for anything less than the best when it comes to your Brighton property, so why should your conveyancing service be any different? Here's why Juno makes an excellent choice:
We simplify and accelerate the conveyancing process due to our innovative tech processes and proactive legal team. On average, we complete transactions 8 weeks faster than the national average.
Keep track of your case and get answers to your queries via our user-friendly online dashboard, accessible from mobile as well as PC.
Regular weekly email updates and instant, friendly phone support aimed to maintain transparency throughout the process.
Receive instant quotes online or by phone with our transparent pricing scheme: no hidden charges, guaranteed!
Highly rated with a score of 4.8/5 on TrustPilot, showcasing our excellent customer satisfaction.
Benefit from our 'Second Chance Guarantee' on purchases and 'No completion, no fee' policy on sales.
Approved by all major UK lenders and regulated by the CLC, ensuring we adhere to high standards of service.
Online Conveyancing with Juno - A Breath of Fresh Air
While local solicitors can offer a great service, in an ever-evolving digital world, online conveyancing is fast becoming the go-to choice for many. Working with online conveyancing firms like Juno offers distinct advantages:
National expertise: Our lawyers work on cases all over England and Wales, giving them a comprehensive knowledge of national property law.
Efficiency and convenience: All processes from ID checks to contract e-signatures are digitalised. You can buy or sell a property using just your mobile phone, eliminating the need to visit an office or print loads of paperwork.
Remote access: Track your case progression, communicate with our team, and manage transactions anytime, anywhere through our online dashboard. Chilling on Brighton beach or sipping coffee at a local cafe, your case data is just a tap away.
Reliability and support: We offer support via phone calls and the online dashboard, ensuring you're never left out in the dark about your case.
Frequently Asked Questions
How does the conveyancing process work when buying a property in Brighton?
When buying a property in Brighton through Juno, the conveyancing process is as follows:
Sign Up: Start the process by signing up with Juno.
Mortgage and Funding: You'll need to secure your funding, usually through a mortgage.
Search Reports: Juno will order and review several searches associated with the property.
Contract Pack: The seller's lawyer will send us a draft contract, the Land Registry records for the property, and a pack of information provided by the seller.
Survey: We recommend that all of our clients have a survey done in addition to any mortgage valuation.
Enquiries: Juno will ask the seller's lawyer to clarify and/or fix any legal issues with the property.
Report: We'll provide you with a comprehensive report, explaining everything you need to know before buying.
Exchange: The contracts will be exchanged, legally committing you and the seller to the transaction.
Completion: This is the day when the purchase is finalised, and you can receive the keys!
Registration: Finally, your ownership of the property will be registered with the Land Registry.
How does the conveyancing process work for selling a property in Brighton?
The steps for selling a property with Juno:
Sign Up: Begin by signing up with Juno.
Contract & Property Information Forms: After signing up, Juno will draft a contract and request detailed information and documents about the property. All of this can be done online with Juno.
Management Pack: If selling a leasehold, request a management pack from your management company.
Mortgage Statements: We will review your mortgage statements to determine how much is remaining to repay.
Enquiries: Juno will handle enquiries from the buyer's solicitor about your property.
Exchange: Contracts are exchanged, meaning you and the buyer are legally committed to the property transfer.
Completion: The final step where the sale is completed, and you release the keys!
What is the average conveyancing time in Brighton?
The national average for conveyancing is 20 weeks, but Juno - with our efficient system - tends to complete transactions 8 weeks faster on average. That's only 12 weeks until you can enjoy your new Brighton home! If both the seller and buyer are using Juno, the process is even quicker, typically completing 2-3 weeks earlier. Do keep in mind, leaseholds may take a bit longer due to necessary correspondence with management companies.
What searches are involved in the conveyancing process?
The main searches Juno will conduct during the conveyancing process include local authority checks, environmental reports, and water and drainage searches.
What issues should buyers consider when purchasing a home in Brighton?
When considering the purchase of a property in Brighton, it is crucial to be mindful of the property's condition (a survey can help with this), its proximity to Brighton's busy areas, and the property's flood risk due to Brighton's coastal location. Furthermore, understanding the restrictions and obligations associated with listed buildings or properties in conservation areas is vital as Brighton has many of these.
What documents do I need to buy a house?
When buying a house, you'll need a photo ID (passport or driving license), proof of funds (bank statements), and a mortgage offer (if applicable).
What documents do I need to sell a house?
To sell your house, you'll need to provide a photo ID, details about your mortgage, and other required documents. These may include an EPC, property information forms TA6 and TA10, leasehold management packs, and more. Juno's legal team will guide you through this process.
Can I track the progress of my conveyancing process?
Yes. With Juno, you can keep track of your case via our user-friendly online dashboard. It allows you to check the progress of your case anytime, leading to a seamless conveyancing process.
Can I carry out conveyancing myself?
In theory, you can carry out conveyancing yourself. However, it is a challenging process that requires a deep understanding of property law. It's easy to make mistakes, which can be costly. To avoid any legal pitfalls, it's best to entrust this to experts like Juno's team.
How much does conveyancing cost in Brighton?
Use our online tool to get an instant quote for conveyancing below:
Choose Juno for simpler, clearer, faster conveyancing in Brighton
Track progress and reply to questions with our mobile-friendly online dashboard
Targeted updates to help you and your estate agent keep things moving forward
Do everything online, including ID checks and e-signatures on contract documents
Get a dedicated team of conveyancers who'll keep you updated every step of the way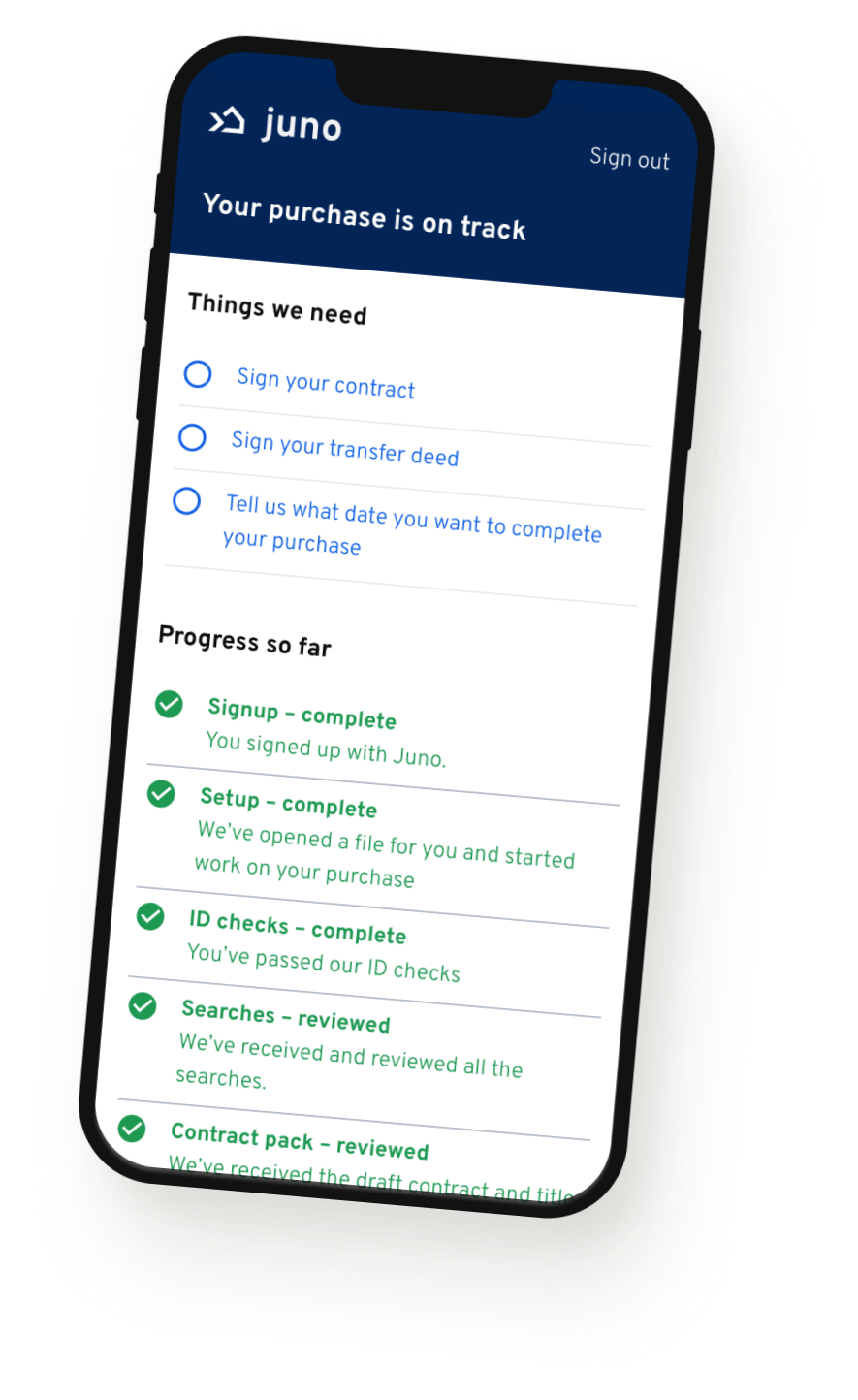 ⭐️⭐️⭐️⭐️⭐️
Best customer service I have received ever! Process was made simple, fast, conveyancing team knew what they were doing and the rest of the team always answered any question extremely fast. The dashboard system meant that we would receive regular updates without even needing to ask!
⭐️⭐️⭐️⭐️⭐️
I had tried other conveyancers but was not very impressed. Like everyone the internet was next and Juno came up. Checked the reviews and they were positive. So I used them for the sale of my house. I am very impressed with them and the dashboard they use. They kept me up to date with the total experience. Very reasonably priced.
⭐️⭐️⭐️⭐️⭐️
Amazing service overall - used Juno for the purchase of my property and will definitely recommend to friends and family. The team made the entire process easy and I really like their online portal which allows you to track the work being done.