Conveyancing solicitors in Bristol
Get peace of mind, with fixed price quotes and second chance guarantee
Complete your move up to two months faster than most other law firms
Rated Excellent on Trustpilot, trusted by thousands of people every year
Conveyancing in Bristol
In the vibrant city of Bristol, a hub of exciting real estate opportunities emerges. From bustling Harbourside to the quiet beauty of Sneyd Park, Bristol's property market presents an array of gems within its diverse neighbourhoods. Conveyancing is a crucial component of the purchasing, selling or remortgaging process in any property transaction, and the importance of partnering with a reliable, efficient conveyancing firm cannot be underestimated.
Why Choose Juno for Conveyancing in Bristol
Simpler, Clearer, Faster Conveyancing: With Juno, you'll find the conveyancing process made more straightforward and efficient, taking the stress out of your property transaction.
Efficient Conveyancing: Juno's conveyancing service is not only efficient but speedier, being 8 weeks faster, on average, than the national average.
Dynamic Online Dashboard: Manage your conveyancing case with our mobile-friendly online dashboard, keeping track of progress and responding to queries at your convenience.
Proactive Communication: Look forward to regular email updates on your case progression and excellent phone support, with 95% of calls answered first time.
Transparent Pricing with Instant Quotes: No surprises - just guaranteed legal fees with our instant quotes, online or over the phone.
Exceptional Reputation: Juno boasts a stellar 4.8 out of 5 Trustpilot rating, a testament to our dedication to client satisfaction.
Second Chance Guarantee and No Completion No Fee: Commitment issues? We've got you covered. Our Second Chance Guarantee ensures your investment is carried over to a second attempt if your initial property purchase falls through for any reason. Additionally, on sales, you don't pay until completion.
The Benefits of Online Conveyancing with Juno
In the digital age, why restrict yourself to local conveyancers? Enjoy the flexibility and convenience of an online firm like Juno. With national expertise, backed by an expert team with experience in both property laws and technology, Juno brings a unique edge to conveyancing. Our processes, inclusive of ID checks and contract e-signatures, can be fully done online via your mobile phone, eliminating the hassle of paperwork, travel, and time constraints. The nature of online communication also means you're constantly connected, able to receive proactive updates and access your dashboard at any time. With Juno, you get local wisdom with national coverage, and the assurance of a firm that's regulated and trusted by the Council for Licensed Conveyancers (CLC).
Frequently asked questions
How does the conveyancing process work for buying a property?
At Juno, the purchase process involves several stages:
Sign-Up - Join us to start the journey.
Mortgage and Funding - Make sure you have the necessary financial resources in place.
Search Reports - We order and review searches relevant to your prospective property.
Contract Pack - After receiving a draft contract, Land Registry records, and a pack of information from the seller's lawyer, we'll review everything thoroughly.
Survey - We strongly recommend all our clients get a property survey in addition to any mortgage valuation.
Enquiries - If we identify potential legal issues with the property, we'll ask the seller's lawyer for clarification or remediation.
Report - After examination of all documents and resolving any issues, we'll prepare a report and guide you through it.
Exchange - Once all parties are happy, we proceed to the exchange of contracts.
Completion - This is when you formally become the homeowner!
Registration - As the last step, we'll register you as the new owner at the Land Registry.
How does the conveyancing process work for selling a property?
The process for selling a property with Juno is very straightforward:
Sign Up - Engage with us to facilitate a smooth selling process.
Contract Pack - We draft a contract, obtain land registry records, and send everything to the buyer's lawyer.
Property Information Forms - You'll provide detailed information and documents for the property you're selling, which you can conveniently do online with us. We'll check over everything, and once it's good, we send it to the buyer's lawyer.
Management Pack - If you're selling a leasehold property, you'll need to request a management pack from your management company.
Mortgage Statements - You'll have to provide current mortgage statements, if applicable.
Enquiries - We'll handle any legal questions from the buyer's lawyer.
Exchange - Once satisfied, all parties proceed to the exchange of contracts.
Completion - Congratulations, you've just sold your property!
How long does conveyancing take in Bristol?
Conveyancing is a detailed process and can take time. Nationally, the average length is about 20 weeks. However, we're proud to offer a faster service. On average, Juno takes 8 weeks less, resulting in a usual 12-week period for completion on a freehold. Leasehold properties can take a bit longer due to correspondence with management companies. If both the seller and purchaser use Juno for the same transaction, we often complete 2-3 weeks faster!
What searches are involved in conveyancing?
When buying a property, Juno will carry out the following key searches: local authority checks, environmental checks, and water & drainage searches, ensuring a comprehensive understanding of any potential problems or legal issues.
What issues should buyers consider when purchasing a home in Bristol?
Buyers should consider Bristol's property market trends, the local community, schools, transport links, and potential development plans in the area. Regularly ranked as one of the best places to live in the UK, Bristol offers a wonderful mix of urban and rural landscapes. Each neighbourhood has its unique features, from the vibrant Harbourside area to the peaceful Sneyd Park.
What documents do I need to buy a house?
To buy a house, you'll need to provide a valid photo ID (a passport or driving license), a proof of funds (via bank statements) and your mortgage offer, if you're using one to purchase.
What documents do I need to sell a house?
If you're selling a property, you'll need your photo ID (a passport or driving license) and details of the mortgage (if any). Our legal team will guide you through assembling or creating the other required documents, such as Energy Performance Certificate (EPC), property information forms TA6 and TA10, leasehold management packs etc.
Is online conveyancing safe?
Absolutely. As a regulated firm, Juno offers a secure and convenient online conveyancing process. We abide by the standards set by the Council for Licensed Conveyancers (CLC), assuring you reliable and protected services.
Can I track the progress of my property transaction online?
Yes, you can! With our dynamic online dashboard, you can keep track of your case and respond to queries at your convenience. Plus, we promise proactive email updates on your case progression. It's simpler, clearer, and faster with Juno!
How much does conveyancing cost in Bristol?
Use our online tool to get an instant quote for conveyancing below:
Choose Juno for simpler, clearer, faster conveyancing in Bristol
Track progress and reply to questions with our mobile-friendly online dashboard
Targeted updates to help you and your estate agent keep things moving forward
Do everything online, including ID checks and e-signatures on contract documents
Get a dedicated team of conveyancers who'll keep you updated every step of the way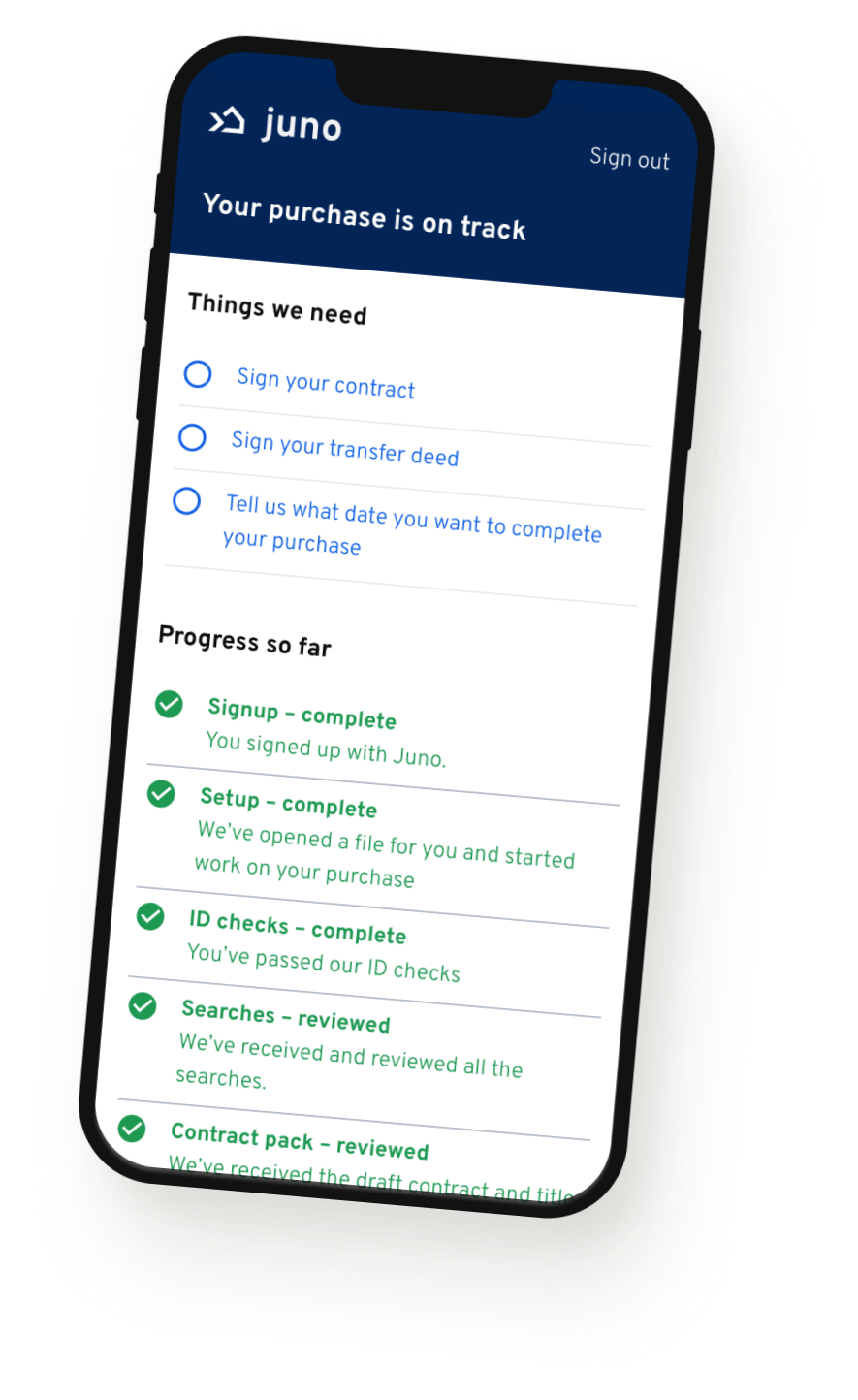 ⭐️⭐️⭐️⭐️⭐️
Amazing service overall - used Juno for the purchase of my property and will definitely recommend to friends and family. The team made the entire process easy and I really like their online portal which allows you to track the work being done.
⭐️⭐️⭐️⭐️⭐️
The updates are regular by email, the dashboard is thorough, the documentation is so easy to load and access and when you do need to speak to them you can get them on the phone and they explain things properly. All that and they are a fantastic price, unbelievable to me that the service is provided at such a low cost.
⭐️⭐️⭐️⭐️⭐️
I had tried other conveyancers but was not very impressed. Like everyone the internet was next and Juno came up. Checked the reviews and they were positive. So I used them for the sale of my house. I am very impressed with them and the dashboard they use. They kept me up to date with the total experience. Very reasonably priced.