Conveyancing solicitors in Canterbury
Get peace of mind, with fixed price quotes and second chance guarantee
Complete your move up to two months faster than most other law firms
Rated Excellent on Trustpilot, trusted by thousands of people every year
Conveyancing in Canterbury
Canterbury, the historic cathedral city in the heart of the Garden of England, offers a charming blend of rich history, vibrant culture, and excellent connectivity to London and Continental Europe. With its diverse collection of properties, ranging from quaint cottages to contemporary residences, Canterbury has an array of housing options for buyers and sellers alike. When it comes to navigating the property market, needs the expertise of a reliable conveyancing firm like Juno.
Why You Should Choose Juno for Your Conveyancing Needs
When you're buying or selling property in Canterbury, you need a secure, quick and efficient solution. Below are compelling reasons why choosing Juno can be your smartest decision:
Juno makes the conveyancing process simpler, clearer, and faster—we complete transactions approximately 8 weeks earlier than the UK average.
Our innovative online dashboard allows tracking and responding to the progression of your case at any time, from anywhere.
We provide regular proactive updates, both through emails and our client-friendly phone support.
With Juno, get an instant and transparent conveyancing fee quote online or over the phone.
We are highly rated on TrustPilot, ensuring top-notch service and customer satisfaction.
More than just a service, we provide the 'Second Chance Guarantee' and 'No completion no fee' policy for peace of mind during your property transactions.
Our team of lawyers offers local knowledge with national coverage, making us an ideal online conveyancing partner for Canterbury's locals or those moving to the area.
The Unique Benefits of an Online Conveyancing Firm
In a digital age, it's a savvy move to work with online conveyancers who operate efficiently at the national level. With Juno, you don't have to visit an office in person or print stacks of documents. You can buy or sell a house using your mobile phone—anytime, anywhere.
Our online firm's strict adherence to confidentiality ensures secure transactions. Our tech processes and expert legal team significantly speed up the process, proving us to be more efficient than local conveyancers. We offer you the freedom to check the progress of your case and interact with our team without time or geographical constraints.
In conclusion, Juno offers professional and reliable conveyancing that combines technology, national expertise, and a personalised approach suited to Canterbury's property market. Be a part of Juno's efficient, trustworthy, and user-friendly online conveyancing experience!
Frequently Asked Questions
How does the conveyancing process work when buying a property in Canterbury?
The conveyancing process for buying a property follows a structured path:
Sign-Up: Register with Juno to begin the process.
Mortgage and Funding: Prepare your mortgage and funding plans.
Search Reports: Juno orders and reviews search reports on your behalf.
Contract Pack: The seller's lawyer sends a draft contract, the Land Registry records for the property, and a pack of information provided by the seller.
Survey: We highly recommend getting a survey in addition to any mortgage valuation.
Enquiries: We will liaise with the seller's lawyer to clarify and/or fix any legal issues with the property.
Report: Juno will provide a detailed report.
Exchange: Agreement terms are finalised, and contracts are exchanged.
Completion: The property sale is finalised.
Registration: The property is registered in your name.
How does the conveyancing process work when selling a property in Canterbury?
Selling a property involves a different process:
Sign Up: Register with Juno to start.
Contract Pack: We help draft a contract, obtain Land Registry records, and send it to the buyer's lawyer.
Property Information Forms: You'll need to provide detailed information and documents for the property you're selling. Juno allows you to do this online, and we send the documents to the buyer's lawyer.
Management Pack: If you're selling a leasehold property, you'll need to request this from your management company.
Mortgage Statements: These are also required for the selling process.
Enquiries: Answer any inquiries from the buyer's lawyer.
Exchange: Terms are agreed upon and contracts are exchanged.
Completion: The property sale completes.
How long does conveyancing take in Canterbury?
On average, conveyancing can take up to 20 weeks nationally. However, with Juno, the process is usually completed around 8 weeks faster, averaging at 12 weeks for a freehold property. Leaseholds can take longer due to necessary correspondence with a management company. If both the seller and buyer use Juno for the same transaction, we usually complete 2-3 weeks quicker.
What searches are involved in conveyancing?
The main searches involved in the conveyancing process include local authority checks, environmental, and water & drainage searches.
What issues should buyers consider when purchasing a home in Canterbury?
When buying a home in Canterbury, you should consider factors such as the type and age of the property, its proximity to desirable facilities, such as schools and transportation links, maintenance costs and potential for future developments. Local area searches conducted during the conveyancing process provide detailed information to help identify any specific issues.
What documents do I need to buy a house?
To buy a house, you will need the following: Photo ID (passport or driving licence), proof of funds (bank statements) and a mortgage offer.
What documents do I need to sell a house?
To sell a house, you will need: Photo ID (passport or driving licence) and details of the mortgage. Juno's legal team will guide you through creating or finding other required documents (like an EPC, property information forms TA6 and TA10, Leasehold Management Packs, etc).
What sets Juno apart from local conveyancing firms?
With Juno, you can manage your conveyancing needs online, without physical visits to an office or complex paperwork. We offer a quicker and more efficient process, typically completing transactions 8 weeks faster than the national average. We have a team of expert lawyers with local and national coverage.
How secure is the online conveyancing process with Juno?
Our online conveyancing processes adhere strictly to data confidentiality norms. Our efficient legal team and technologically driven processes ensure safe and secure transactions. We take pride in our proactive approach and prompt communication style that keeps you informed at every step.
How much does conveyancing cost in Canterbury?
Use our online tool to get an instant quote for conveyancing below:
Choose Juno for simpler, clearer, faster conveyancing in Canterbury
Track progress and reply to questions with our mobile-friendly online dashboard
Targeted updates to help you and your estate agent keep things moving forward
Do everything online, including ID checks and e-signatures on contract documents
Get a dedicated team of conveyancers who'll keep you updated every step of the way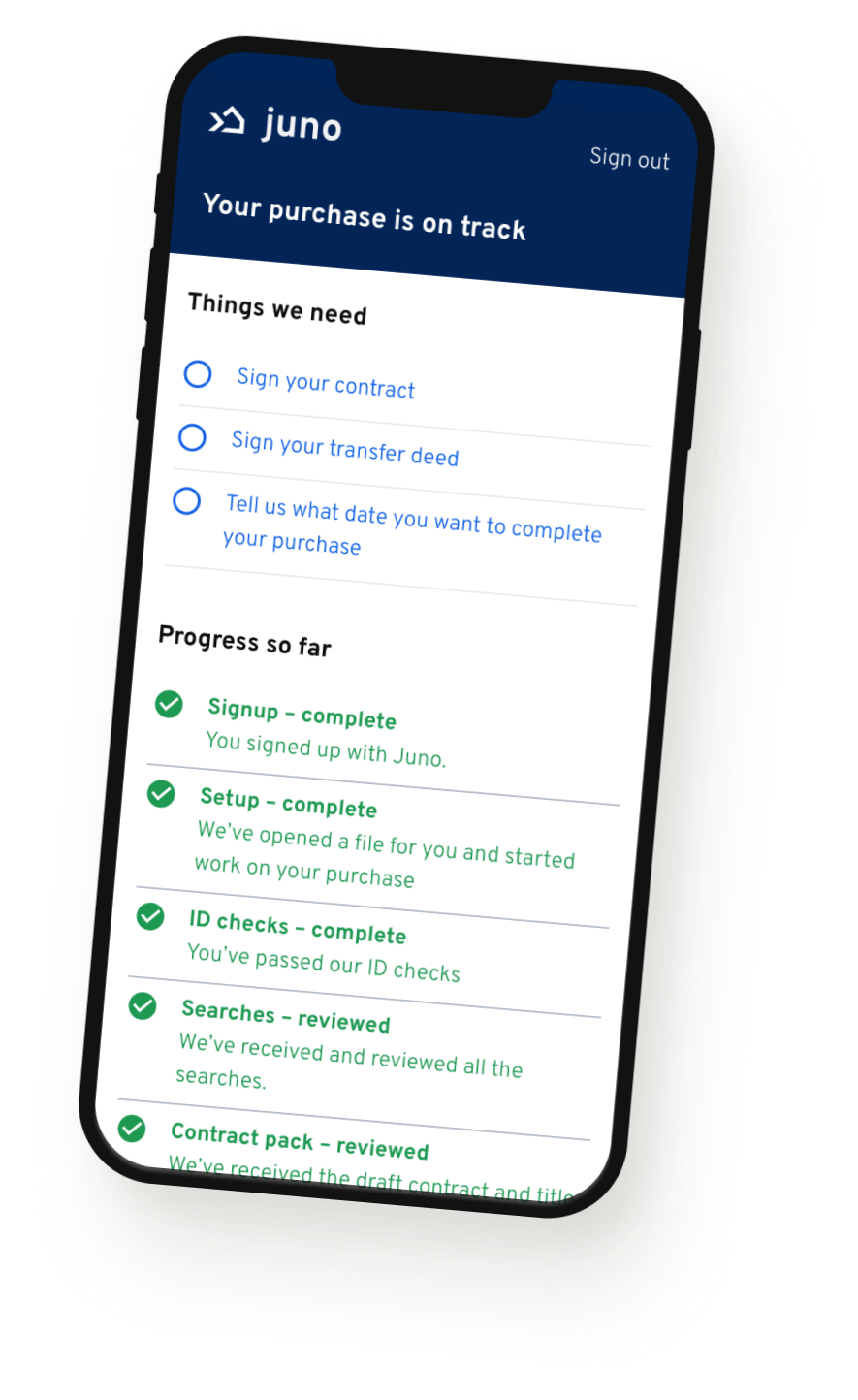 ⭐️⭐️⭐️⭐️⭐️
Best customer service I have received ever! Process was made simple, fast, conveyancing team knew what they were doing and the rest of the team always answered any question extremely fast. The dashboard system meant that we would receive regular updates without even needing to ask!
⭐️⭐️⭐️⭐️⭐️
The updates are regular by email, the dashboard is thorough, the documentation is so easy to load and access and when you do need to speak to them you can get them on the phone and they explain things properly. All that and they are a fantastic price, unbelievable to me that the service is provided at such a low cost.
⭐️⭐️⭐️⭐️⭐️
Juno has an online portal updating you every step of the way, it was so convenient and we received emails when there was something for us to do. Their portal is where all the required forms are completed and electronically signed. If we needed to call them our phone calls were answered quickly and if not they will call you back!