Conveyancing solicitors in Derby
Get peace of mind, with fixed price quotes and second chance guarantee
Complete your move up to two months faster than most other law firms
Rated Excellent on Trustpilot, trusted by thousands of people every year
Choose Juno for simpler, clearer, faster conveyancing in Derby
Track progress and reply to questions with our mobile-friendly online dashboard
Targeted updates to help you and your estate agent keep things moving forward
Do everything online, including ID checks and e-signatures on contract documents
Get a dedicated team of conveyancers who'll keep you updated every step of the way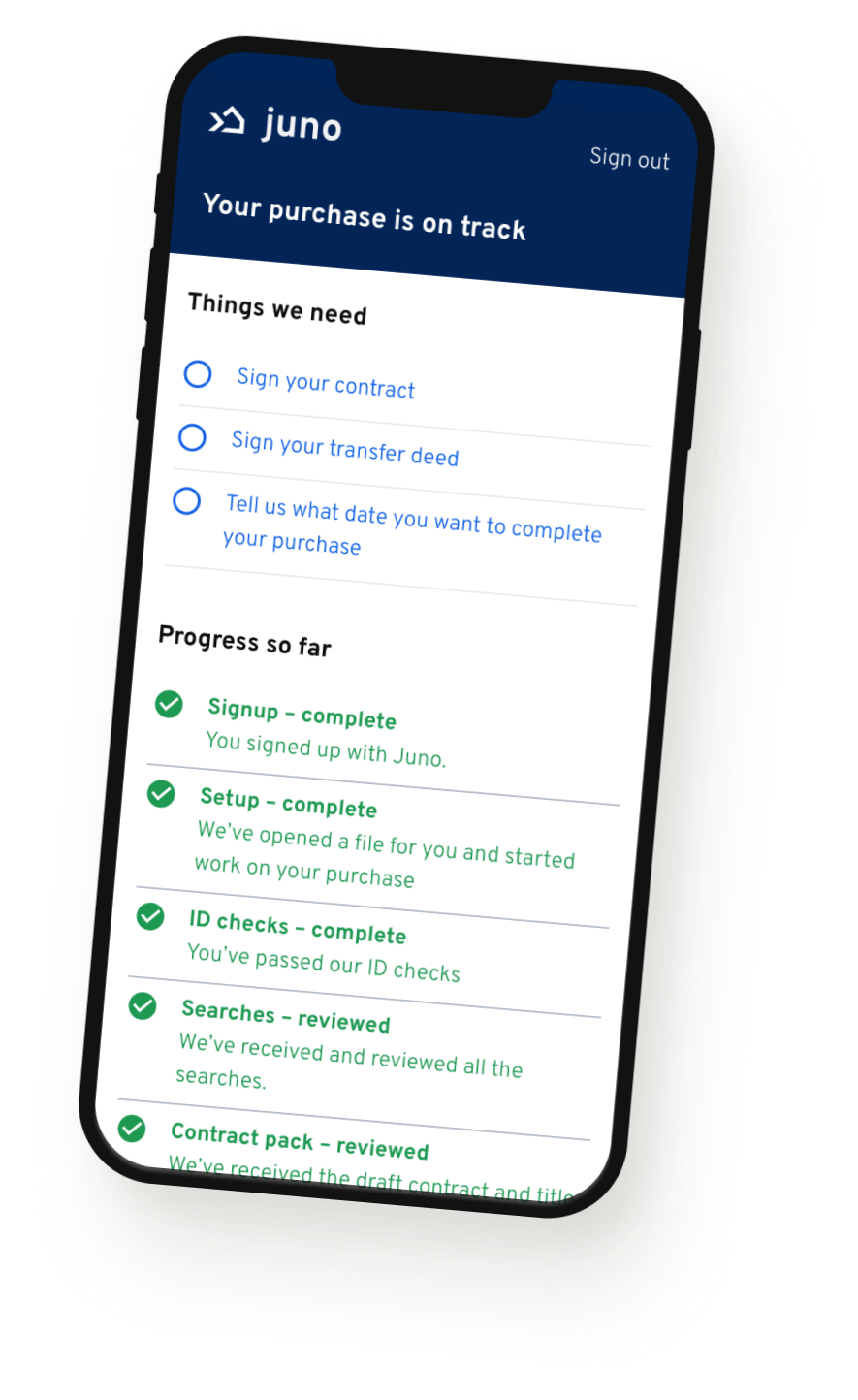 We've helped 66 people move house in Derby
A team of your own
Juno's lawyers and paralegals work together in small teams, so there's always someone available to work on your case. That means you won't be kept waiting if one of your team is off sick or away for a few days.
Move quickly and efficiently
Our systems track outstanding information and help us to keep chasing for the documents and replies we need. And our cutting edge e-signature platform means there's no waiting for documents to be signed and delivered by post.
Updates designed for you
We've replaced legal jargon with clear, straightforward explanations from start to finish. You'll always know what's happening, what we're waiting for, and what you need to do next. We do the same with our property reports.
⭐️⭐️⭐️⭐️⭐️
Amazing service overall - used Juno for the purchase of my property and will definitely recommend to friends and family. The team made the entire process easy and I really like their online portal which allows you to track the work being done.
⭐️⭐️⭐️⭐️⭐️
I had tried other conveyancers but was not very impressed. Like everyone the internet was next and Juno came up. Checked the reviews and they were positive. So I used them for the sale of my house. I am very impressed with them and the dashboard they use. They kept me up to date with the total experience. Very reasonably priced.
⭐️⭐️⭐️⭐️⭐️
The updates are regular by email, the dashboard is thorough, the documentation is so easy to load and access and when you do need to speak to them you can get them on the phone and they explain things properly. All that and they are a fantastic price, unbelievable to me that the service is provided at such a low cost.