Conveyancing solicitors in Exeter
Get peace of mind, with fixed price quotes and second chance guarantee
Complete your move up to two months faster than most other law firms
Rated Excellent on Trustpilot, trusted by thousands of people every year
Conveyancing in Exeter
Purchasing a property is a significant step for anyone, and in a city as historical and picturesque as Exeter, it's an unforgettable experience. Nestled in the heart of Devon, Exeter boasts a thriving cultural scene, a captivating history dating back to Roman times, and a unique blend of city and country living. Understanding the conveyancing process in Exeter is vital for a smooth transaction, and that's where Juno comes in, making a complex process straightforward and swift.
Why Choose Juno for Conveyancing in Exeter?
Achieve faster property transactions with Juno. On average, we are 8 weeks quicker than the national standard, thanks to our efficient technology and proactive legal team.
Stay updated with your case's progression with our mobile-friendly online dashboard. Regular progress updates are also sent via email weekly.
Benefit from our responsive phone support, answering 95% of calls first time and committing to return any missed calls promptly.
Enjoy guaranteed, transparent legal fees with instant quotes online or over the phone, ensuring no hidden surprises.
Trust in Juno's reputation, as evidenced by our excellent 4.8/5 score on TrustPilot and our approval by major UK lenders.
Experience our digital convenience, with all processes from ID checks to contract e-signatures handled entirely online through our client dashboard.
Take advantage of our unique offers: the Second Chance Guarantee on purchases and the no completion, no fee clause on sales.
Benefits of Using an Online Firm vs a Local Conveyancer
Taking on the service of an online conveyancing firm like Juno provides numerous benefits not only specific to Exeter but across England and Wales:
National Expertise: With our broad coverage, you can have confidence in our extensive knowledge of national property markets, not just limited to the locale.
Digital Convenience: Reduce the need for physical processes with our online approach, enabling you to complete transactions from your mobile device without the need for printing documents or visiting an office in person.
Efficiency: Our unique blend of legal and tech wizardry enhances the speed and effectiveness of our service. Our team of property lawyers and tech experts who have experience building GOV.UK and The Guardian websites ensure Juno remains at the forefront of conveyancing.
Regulation and Trust: Juno provides the same regulatory protection as a local firm. We are regulated by the CLC, ensuring a high standard of service, and our excellent customer reviews only cement our trustworthy standing within the industry.
Frequently Asked Questions
How does the conveyancing process work when buying a property in Exeter?
When you're buying a property, our conveyancing process at Juno includes several steps:
Sign-Up: Begin by signing up with Juno.
Mortgage and Funding: Secure your mortgage and funding.
Search Reports: We order and review relevant searches about the property.
Contract Pack: The seller's lawyer will send us a draft contract, the Land Registry records for the property, and a pack of information provided by the seller.
Survey: We recommend all our clients to get a survey, in addition to any mortgage valuation.
Enquiries: We will ask the seller's lawyer to clarify or fix any legal issues with the property.
Report: We will provide a detailed report on all our findings.
Exchange: Contracts are exchanged and completion date is set.
Completion: Money is transferred and keys are handed over.
Registration: Completing the process by registering the property in your name.
How does the conveyancing process work for selling a property in Exeter?
If you're selling a property, Juno's conveyancing process involves the following steps:
Sign-Up: Sign up with Juno.
Contract Pack: We prepare a draft contract, obtain land registry records, and send it to the buyer's lawyer.
Property Information Forms: You provide detailed information and documents about the property you're selling. This can all be done online with Juno.
Management Pack: If the property is leasehold, request a management pack from your management company.
Mortage Statements: We will prepare relevant mortgage statements.
Enquiries: We'll handle any enquiries from the buyer's lawyer.
Exchange: Contracts are exchanged and completion date is set.
Completion: Upon completion, funds are transferred and ownership is transferred to the buyer.
How long does conveyancing take in Exeter?
While the national average for conveyancing is 20 weeks, at Juno, we're proud to be on average 8 weeks faster. We average at 12 weeks to completion on a freehold property. Leasehold properties can take more time due to the need for lawyers to correspond with a management company. If both the seller and buyer use Juno, the process often finishes 2-3 weeks quicker.
What searches are involved in conveyancing?
The main searches involved in conveyancing are local authority checks, environmental searches, and water & drainage searches.
What issues should buyers consider when purchasing a home in Exeter?
When purchasing a home in Exeter, consider aspects like flooding risk, the city's historic conservation rules, and local infrastructural developments. Exeter has many listed and historic properties that may have certain restrictions. Furthermore, flooding can be an issue in certain areas due to several waterways running through the city. Always get a local authority search and an environmental search done to understand any potential issues.
What documents do I need to buy a house?
When buying a house, you'll need to provide a photo ID such as a passport or driving license, proof of funds like bank statements, and your mortgage offer.
What documents do I need to sell a house?
To sell a house, you will need to provide a photo ID (like a passport or driving licence), and details of the mortgage. Juno's legal team will guide you through creating or finding the other required documents like the EPC, property information forms TA6 and TA10, and leasehold management packs.
How can Juno help with buying and selling property in Exeter?
Juno's experienced legal team can provide expert guidance and handle the entire process of conveyancing when buying or selling property in Exeter. By using our online dashboard, you can track the progress of your transaction in real-time. Our technology-enabled processes ensure you enjoy faster property transactions, transparent legal fees, and excellent support throughout.
Is Juno's online conveyancing service as secure as traditional conveyancing?
Yes, Juno's online conveyancing service is as secure as traditional conveyancing. We adhere to strict data protection laws and use secure online platforms for all transactions. Our service is regulated by the CLC, assuring you of a high standard of service.
How much does conveyancing cost in Exeter?
Use our online tool to get an instant quote for conveyancing below:
Choose Juno for simpler, clearer, faster conveyancing in Exeter
Track progress and reply to questions with our mobile-friendly online dashboard
Targeted updates to help you and your estate agent keep things moving forward
Do everything online, including ID checks and e-signatures on contract documents
Get a dedicated team of conveyancers who'll keep you updated every step of the way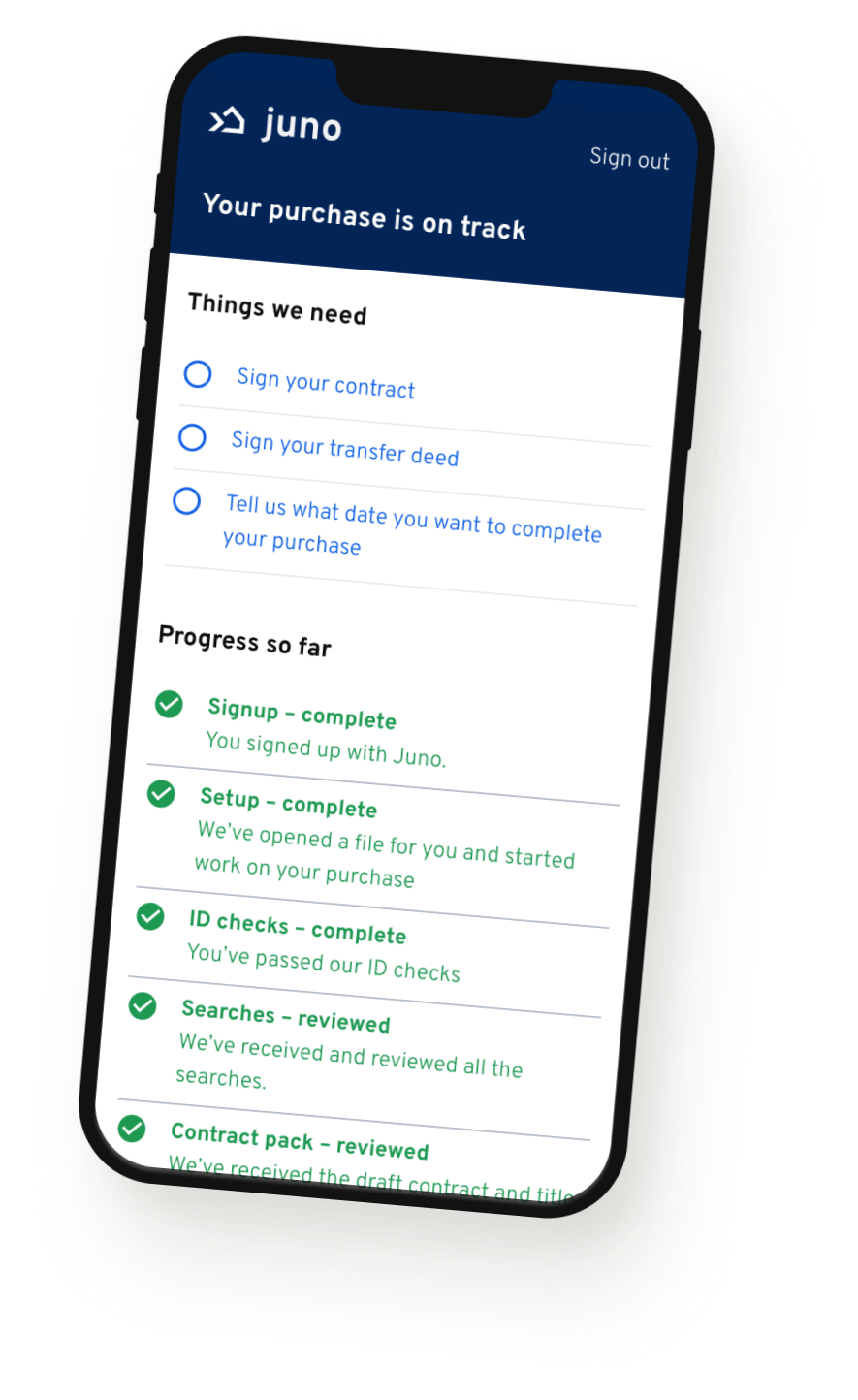 ⭐️⭐️⭐️⭐️⭐️
We were a bit nervous about who to use but Juno made everything so easy with their Dashboard that tells you exactly where you are in the process, meaning you never have to chase them for an update. All the actions they had to take were taken within 24h, which was great as we were keen to complete the sale fast.
⭐️⭐️⭐️⭐️⭐️
Excellent service throughout with regular updates and easy to complete questionnaires as the sale progressed. The online dashboard was excellent for keeping on top of the process. Communication was prompt and phone calls answered quickly by Juno's team.
⭐️⭐️⭐️⭐️⭐️
I had tried other conveyancers but was not very impressed. Like everyone the internet was next and Juno came up. Checked the reviews and they were positive. So I used them for the sale of my house. I am very impressed with them and the dashboard they use. They kept me up to date with the total experience. Very reasonably priced.