Conveyancing solicitors in Gloucester
Get peace of mind, with fixed price quotes and second chance guarantee
Complete your move up to two months faster than most other law firms
Rated Excellent on Trustpilot, trusted by thousands of people every year
Conveyancing in Gloucester
Welcome to Gloucester, a city steeped in history, with stunning cathedral architecture, prominent docks, and a vibrant Quays shopping district. Whether you're buying, selling, remortgaging a property or transferring equity, you'll undoubtedly require the expertise of conveyancing professionals. Conveyancing in Gloucester, like elsewhere in England and Wales, refers to the legal and administrative process involved in transferring ownership of a home or property.
Why Choose Juno Conveyancing Services
Choosing the right conveyancing firm is essential for a smooth and successful property transaction. Here's why to choose Juno:
Simpler, Clearer, Faster Process: At Juno, our conveyancing process is straightforward, efficient, and on average 8 weeks faster than the national average.
Convenience and Transparency: Stay updated on your case progress through our online dashboard, receive weekly email updates, and enjoy friendly phone support. Plus, our instant quote service and transparent legal fees ensure you have all costs upfront with no hidden extras.
Trusted & Highly Rated: Our Trustpilot rating of 4.8/5 testifies to our excellent customer service and thousands of satisfied clients. Additionally, we are regulated by CLC and approved by all major UK lenders.
Innovative and Secure: Our digital convenience extends to online ID checks, contract e-signatures and the possibility for clients to access our services any time, from any device.
Fail-Safe Guarantees: Our Second Chance Guarantee means your money is safe if a purchase falls through. And on the sales side, we operate on a no completion, no fee basis.
National Coverage, Local Expertise: Our expert team, comprised of experienced property lawyers and tech gurus, has deep local knowledge of Gloucester and renowned national coverage.
The Advantages of Online Conveyancing
Utilising an online conveyancing firm like Juno offers several unique advantages over traditional local conveyancing services:
National Expertise: With a diverse team working across the UK, Juno provides unrivalled expertise in property law across England and Wales, not just Gloucester.
Accessible & Convenient: Avoid the need for physical meetings or excessive paperwork. With our mobile-friendly dashboard, you can track your case progress, respond to queries and complete the entire process using just your mobile phone.
Efficient & Faster: Traditional conveyancing can be slow but Juno typically completes cases 8 weeks faster than the national average. Our automated processes and proactive legal team ensure a quick turnaround time.
Environmentally Friendly: By choosing an online conveyancing firm, you're reducing the need for printed materials and transportation to physical meetings, making your process greener and more eco-conscious.
Frequently asked questions
How does the conveyancing process work for buying a property in Gloucester?
The process for buying a property with Juno is straightforward:
Sign-Up with Juno.
Organise your Mortgage and Funding.
We order and review Search Reports.
We receive and review a Contract Pack from the seller's lawyer. This includes a draft contract, the Land Registry records for the property, and a pack of information provided by the seller.
We recommend getting a Survey in addition to any mortgage valuation.
We make Enquiries to the seller's lawyer to clarify and/or fix any legal issues with the property.
We provide you with a Report.
We facilitate the Exchange of contracts.
We manage Completion of the property purchase.
We register the new ownership of the property.
How does the conveyancing process work for selling a property in Gloucester?
The process of selling a property with Juno is stress-free:
Sign Up with Juno.
We draft a Contract Pack, obtain land registry records and send it across to the buyer's lawyer.
We'll ask you to provide detailed information and documents for the property you're selling. With Juno you can do this all online. We'll check over everything you provide and send it to the buyer's lawyer.
If you're selling a leasehold, you'll request a Management Pack from your management company.
Provide your Mortgage Statements.
We respond to any Enquiries from the buyer's lawyer.
We facilitate the Exchange of contracts.
We manage Completion of the property sale.
How long does conveyancing take in Gloucester?
The national average is 20 weeks, but with Juno, we typically complete in an average of 12 weeks for a freehold. Leaseholds may take longer due to dealing with management companies. If a seller and purchaser both use Juno for the same transaction, we usually complete 2-3 weeks quicker.
What searches are involved in conveyancing in Gloucester?
We carry out various searches as part of the conveyancing process. The main searches are local authority checks, environmental searches, and water & drainage searches.
What issues should buyers consider when purchasing a home in Gloucester?
When considering a property purchase in Gloucester, be sure to think about factors unique to the area such as the condition of historic buildings, flood risks, local amenities, and the vibrant local culture.
What documents do I need to buy a house in Gloucester?
You will need the following:
Photo ID (passport/driving license).
Proof of funds (bank statements).
Mortgage offer.
What documents do I need to sell a house in Gloucester?
You will need the following:
Photo ID (passport/driving licence).
Details of your mortgage.
EPC, property information forms TA6 and TA10, leasehold management pack. Juno's legal team will guide you through creating or locating these documents.
What is a leasehold property?
A leasehold property is one where the land on which the property is built is not owned by the property owner but is leased for a certain length of time.
Can I buy a house without a solicitor?
While technically possible, it is generally not advisable. The homebuying process involves complex legal matters which are best handled by professionals.
What is the difference between a conveyancer and a solicitor?
Both can handle conveyancing, but a solicitor can also offer advice on other legal matters, while a conveyancer is specialised in property law.
How much does conveyancing cost in Gloucester?
Use our online tool to get an instant quote for conveyancing below:
Choose Juno for simpler, clearer, faster conveyancing in Gloucester
Track progress and reply to questions with our mobile-friendly online dashboard
Targeted updates to help you and your estate agent keep things moving forward
Do everything online, including ID checks and e-signatures on contract documents
Get a dedicated team of conveyancers who'll keep you updated every step of the way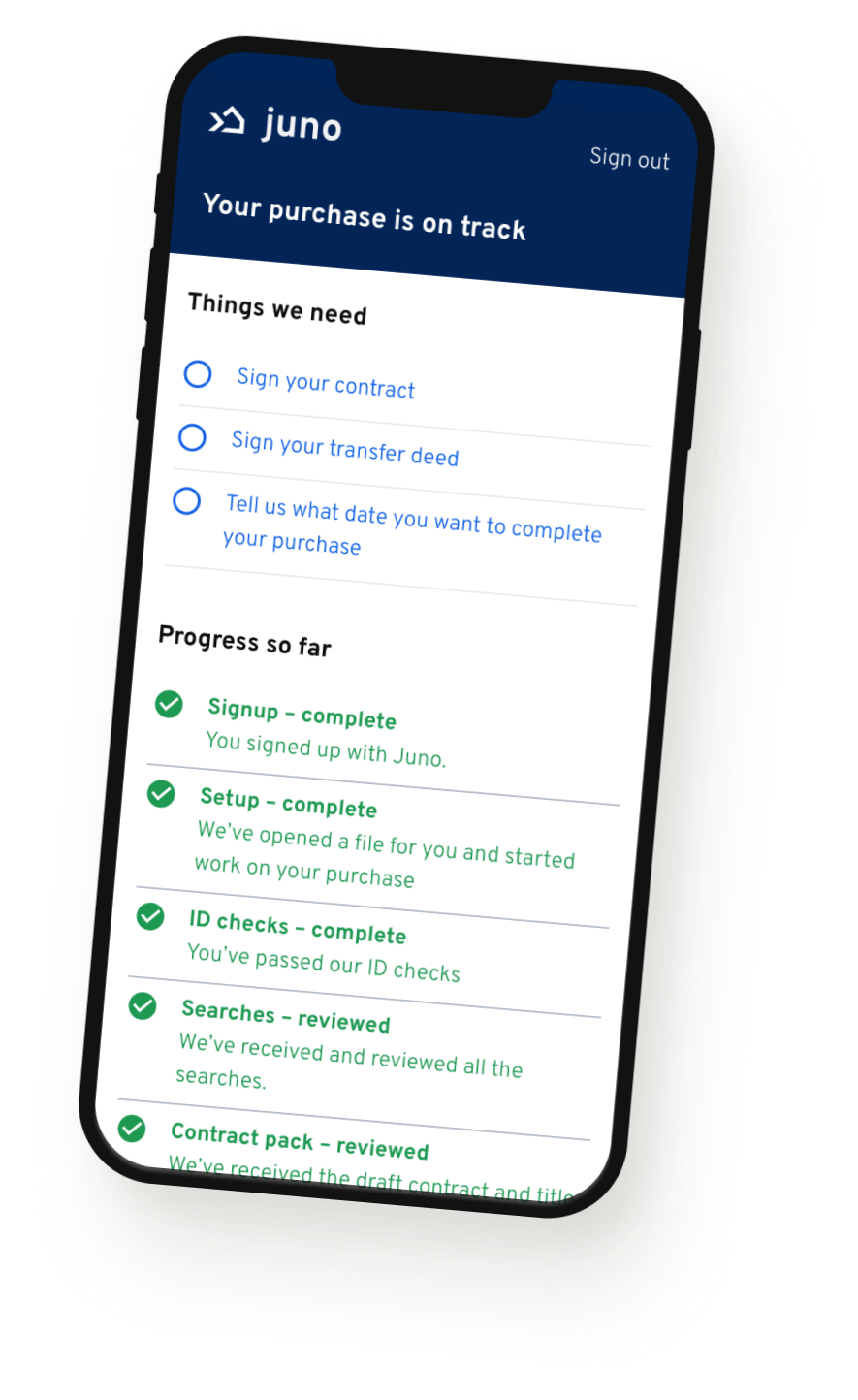 ⭐️⭐️⭐️⭐️⭐️
I had tried other conveyancers but was not very impressed. Like everyone the internet was next and Juno came up. Checked the reviews and they were positive. So I used them for the sale of my house. I am very impressed with them and the dashboard they use. They kept me up to date with the total experience. Very reasonably priced.
⭐️⭐️⭐️⭐️⭐️
Juno has an online portal updating you every step of the way, it was so convenient and we received emails when there was something for us to do. Their portal is where all the required forms are completed and electronically signed. If we needed to call them our phone calls were answered quickly and if not they will call you back!
⭐️⭐️⭐️⭐️⭐️
We were a bit nervous about who to use but Juno made everything so easy with their Dashboard that tells you exactly where you are in the process, meaning you never have to chase them for an update. All the actions they had to take were taken within 24h, which was great as we were keen to complete the sale fast.