Conveyancing solicitors in Hereford
Get peace of mind, with fixed price quotes and second chance guarantee
Complete your move up to two months faster than most other law firms
Rated Excellent on Trustpilot, trusted by thousands of people every year
Conveyancing in Hereford
In the historic city of Hereford, property ownership is a crucial aspect of everyday life. Characterised by its Medieval Saxon architecture and surrounded by the natural beauty of the Herefordshire countryside, this city boasts a flourishing property market. The complexities of buying and selling properties in Hereford necessitates the need for a competent and efficient conveyancing service.
Why Choose Juno for Conveyancing Service
When it comes to conveyancing, Juno is an excellent choice for several reasons:
Efficiency: Juno's savvy tech processes and experienced legal team strive to complete conveyancing tasks in just 12 weeks, significantly faster than the national average of 20 weeks.

Transparency: With Juno, what you see is what you get. We offer transparent pricing with absolutely no hidden costs.

Digital Convenience: ID checks, contract e-signatures, and all other processes are conveniently conducted online via our client dashboard.

Usability: Track the progress of your case, respond to queries, and obtain instant quotes on our mobile-friendly online dashboard.

Support: Our friendly team provides regular updates and telephone support, ensuring that 95% of all calls are answered immediately.

Resourcefulness: Juno combines local knowledge with national coverage.
Benefits of Online Conveyancing with Juno
The modern era ushers in a new way of conducting transactions—digitally. Let's consider why an online conveyancer like Juno might be a better fit than a local conveyancer:
National Expertise: Juno's conveyancing services are perfectly placed to provide comprehensive nationwide knowledge, even though they maintain an understanding of local markets such as Hereford.

Convenience: Do away with traditional inconveniences such as printing documents or making trips to an office. With Juno, you can buy or sell a house using just your mobile device.

Efficiency: Juno's use of technology ensures a faster, simpler, and clearer conveyancing process compared to traditional methods.

Flexibility: Tailor your conveyancing experience to your needs. Log into your dashboard anytime to review your entire progress at a glance.

Support: Our team is just a call or email away for any assistance or queries.
Be part of the digital revolution, maximise your convenience, and experience seamless conveyancing with Juno.
Frequently Asked Questions
How does the conveyancing process work when buying a property in Hereford?
Juno's process for buying a property involves several stages:
Sign-Up with Juno
Secure your Mortgage and Funding
We order and review the Search Reports
The seller's lawyer sends us the Contract Pack, which includes a draft contract, Land Registry records, and a pack of information provided by the seller
We recommend getting a property Survey, alongside any mortgage valuation
We addresses any legal issues with the property by making Enquiries with the seller's lawyer
We provide a complete Report
Exchange of contracts
Completion of sale
Final Registration of property with Land Registry.
When selling a property in Hereford, what does the conveyancing process involve?
The conveyancing process of selling a property consists of:
Signing Up with Juno
We draft a Contract Pack, obtain land registry records and share this with the buyer's lawyer
Provision of Property Information Forms with all necessary details and documents relating to the property you are selling. Juno makes this whole process digital and checks everything before it is sent to the buyer's lawyer
If selling a leasehold, you would request a Management Pack from your management company
Provision of Mortgage Statements
We handles any Enquiries related to the property
Exchange of contracts
Completion of sale.
What is the average time period for conveyancing in Hereford?
On average, conveyancing takes about 20 weeks nationally. However, Juno prides itself on completing the whole process 8 weeks faster on average, with an average of just 12 weeks to completion. When seller and purchaser both use Juno for the same transaction, we usually complete the transaction 2-3 weeks quicker than this. Leaseholds may take a bit longer, due to the need for correspondence with a management company.
What types of property searches are involved in the conveyancing process?
The main searches involved in conveyancing are local authority checks, including planning and building regulations, environmental searches for issues like flooding and contamination, and water & drainage searches.
What should I consider when buying a home in Hereford?
Buying a home in Hereford involves considerations specific to the locality such as the types of property in the desired area, the local property market practices, the impact of local planning decisions, and understanding any cultural or historical significance that could impact a property or the procedures for buying one.
What documents do I need when buying a house?
To buy a house, you will need a valid form of photo ID such as a passport or driving license, proof of funds through bank statements, and a mortgage offer if you're financing your purchase with a mortgage.
What documents do I need in order to sell a house?
To sell a house, you would need your photo ID and details of your mortgage. Our legal team will guide you in creating or sourcing the additional required documents like the EPC, property information forms TA6 and TA10, and leasehold management packs (if applicable).
How is online conveyancing with Juno different from a traditional conveyancing service?
Juno's online conveyancing service is more streamlined, efficient, and customer-friendly than traditional conveyancing processes. We offer national expertise with an understanding of local markets like Hereford. Our technology-driven approach results in significant time-saving and increased transparency.
Can I track my conveyancing process with Juno?
Yes, Juno provides a client dashboard where you can track the progress of your case, respond to queries, and get quick updates. This can be accessed anytime, anywhere from your mobile device, making the entire process efficient and user-friendly.
How much does conveyancing cost in Hereford?
Use our online tool to get an instant quote for conveyancing below:
Choose Juno for simpler, clearer, faster conveyancing in Hereford
Track progress and reply to questions with our mobile-friendly online dashboard
Targeted updates to help you and your estate agent keep things moving forward
Do everything online, including ID checks and e-signatures on contract documents
Get a dedicated team of conveyancers who'll keep you updated every step of the way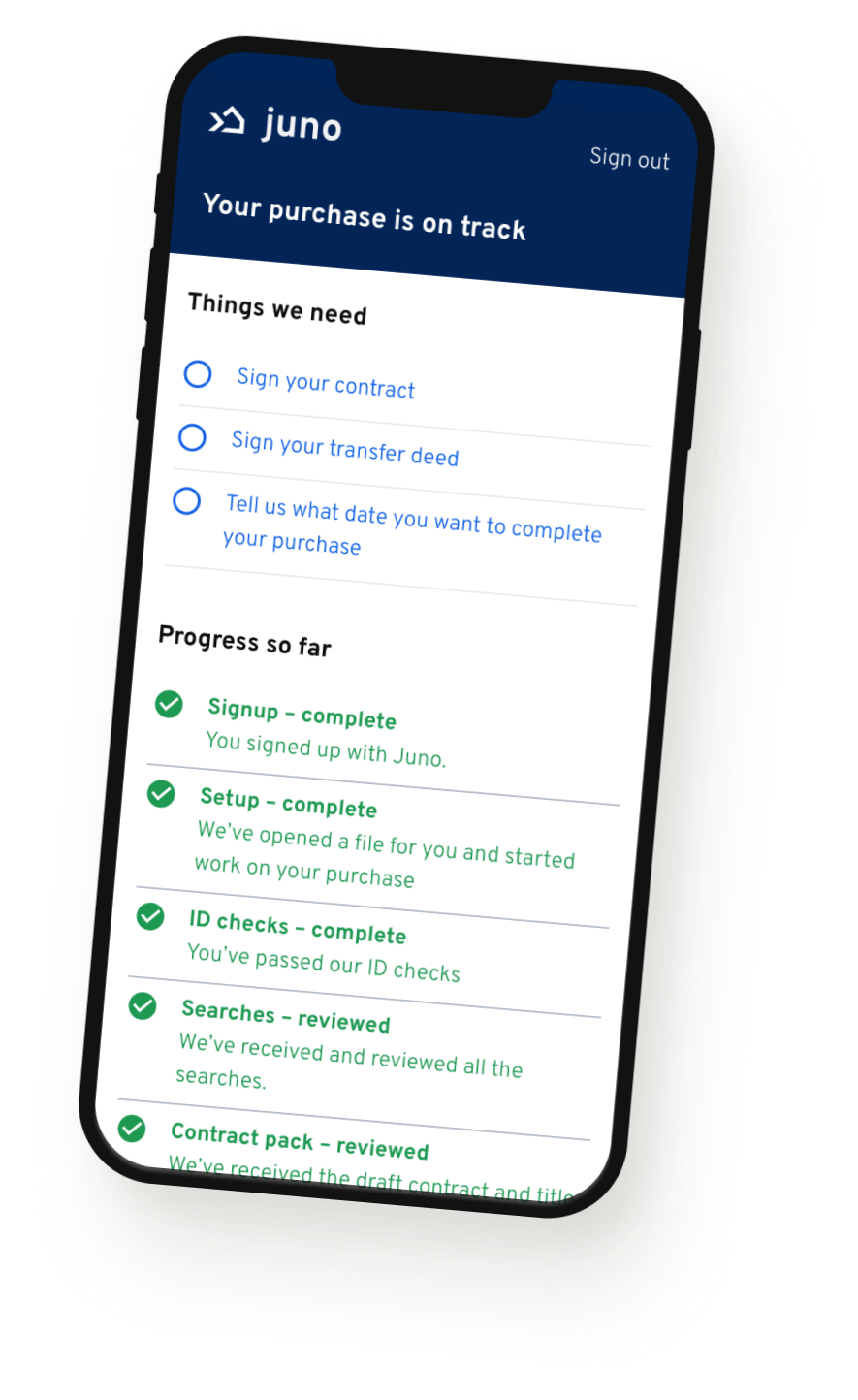 ⭐️⭐️⭐️⭐️⭐️
Amazing service overall - used Juno for the purchase of my property and will definitely recommend to friends and family. The team made the entire process easy and I really like their online portal which allows you to track the work being done.
⭐️⭐️⭐️⭐️⭐️
We were a bit nervous about who to use but Juno made everything so easy with their Dashboard that tells you exactly where you are in the process, meaning you never have to chase them for an update. All the actions they had to take were taken within 24h, which was great as we were keen to complete the sale fast.
⭐️⭐️⭐️⭐️⭐️
I had tried other conveyancers but was not very impressed. Like everyone the internet was next and Juno came up. Checked the reviews and they were positive. So I used them for the sale of my house. I am very impressed with them and the dashboard they use. They kept me up to date with the total experience. Very reasonably priced.