Conveyancing solicitors in Ilford
Get peace of mind, with fixed price quotes and second chance guarantee
Complete your move up to two months faster than most other law firms
Rated Excellent on Trustpilot, trusted by thousands of people every year
Conveyancing Made Simple in Ilford
Ilford is a vibrant, multicultural town with a rich history and exciting future. As one of the largest retail and leisure destinations in London, it promises excellent opportunities for property buyers and sellers. Navigating the conveyancing process in Ilford, however, could be stressful and complex. Juno, your trusted and efficient property conveyancing online firm is here to simplify this process offering its expert services.
Why Choose Juno for Conveyancing In Ilford
As a potential client who is either buying or selling property, it's crucial to know why Juno stands out. Here is a compact list of reasons why Juno is perfect for your conveyancing needs in Ilford:
Speedy Transactions: Our team reduces the average UK conveyancing time from 20 weeks to just 12 with our smart tech processes and proactive legal expertise.
Interactive Online Dashboard: Track your conveyancing progress and respond to queries from the comfort of your mobile.
Transparent Pricing: We provide guaranteed quotes with no hidden charges for our primary legal services.
Highly Rated Services: Our excellent customer reviews and 4.8/5 TrustPilot score reveal our commitment to offering quality service.
Second Chance Guarantee: If your initial attempt to buy a property falls through, we move your paid money to the next attempt.
No Completion No Fee: For property sales, we charge nothing until you finally sell the property.
Local Expertise, National Coverage: Our lawyers work across the UK, focusing on residential transactions in England and Wales. With particular knowledge of Ilford, Juno is perfectly suited to handle any conveyancing in the area.
The Benefits of an Online Conveyancing Firm
Choosing an online firm like Juno comes with several benefits including:
Nationwide Expertise: Unlike local conveyancers, Juno has legal experts with national experience.
Convenience: Everything, from ID checks to contract e-signatures, is done online through our client-friendly dashboard, eliminating the need to print documents or visit an office in person.
Mobile Accessibility: You can buy or sell property using just your mobile device.
Optimal Communication: Regular email updates keep you informed about case progress, and with our efficient phone support, 95% of client calls are attended on the first ring.
Frequently asked questions
How does the conveyancing process work if I'm buying a property in Ilford?
The conveyancing process when buying a property involves several steps:
Sign Up: Start by signing up with Juno for your online conveyancing needs.
Mortgage and Funding: Secure your mortgage and funding for the property purchase.
Search Reports: Juno orders and reviews the necessary searches related to your property.
Contract Pack: The seller's lawyer provides us with a draft contract, the Land Registry records for the property, and an information pack.
Survey: We recommend all our clients get a survey done, in addition to any mortgage valuation.
Enquiries: Juno resolves any legal issues with the property by requesting clarifications or fixes from the seller's lawyer.
Report: A report summarising the legal due-diligence we've performed is provided.
Exchange: The contracts are legally exchanged.
Completion: The property is legally transferred to you.
Registration: Your ownership is registered at the Land Registry.
What's the conveyancing process when selling a property in Ilford?
The process of selling a property typically includes the following steps:
Sign Up: Start your selling process by signing up with Juno.
Contract Pack: We'll draft the contract, obtain the land registry records for your property and send them to the buyer's lawyer.
Property Information Forms: You'll need to provide information about the property via our online form. We'll review everything you provide and send it to the buyer's lawyer.
Management Pack: If the property is a leasehold, you'll need to request a management pack from your management company.
Mortgage Statements: You'll need to provide updated mortgage statements.
Enquiries: We'll handle any enquiries from the buyer's lawyer.
Exchange: The contracts are legally exchanged.
Completion: Ownership is legally transferred to the buyer.
What is the timeline for the conveyancing process in Ilford?
On average, the conveyancing process in the UK takes about 20 weeks. However, at Juno, we reduce that time to an average of 12 weeks for freehold properties. The process for leasehold properties may take longer due to additional correspondence with management companies. If the seller and buyer both use Juno for the same transaction, we usually complete 2-3 weeks quicker.
Which searches are conducted as part of the conveyancing process?
The main searches conducted during the conveyancing process include local authority checks, environmental checks, and water & drainage searches.
I'm planning to buy a house in Ilford. What should I consider?
When looking to buy a home in Ilford, consider its vibrant multicultural community, retail and leisure opportunities, and its rich history. Additionally, consider the property's proximity to amenities, transport links, and local schools.
What documents do I need to buy a home?
To buy a home, you'll need to provide a valid photo ID (passport or driving licence), proof of your funds for the property purchase (e.g., bank statements), and your mortgage offer, if applicable.
What documentation is required when selling a house?
When selling a property, you need to present a valid photo ID (passport or driving licence) and details of your mortgage. Juno's legal team will guide you through creating or finding the other required documents (EPC, property information forms TA6 and TA10, leasehold management packs, and more).
What makes Juno's conveyancing services a favourable choice in Ilford?
Juno offers a number of benefits over traditional conveyancing firms including an interactive online dashboard, transparent pricing, a second chance guarantee, and a no completion, no fee policy. Our team's specific knowledge of Ilford, efficient processes, and commitment to excellent service make us a top choice for conveyancing in Ilford.
How easy is it to use Juno's online conveyancing services?
Juno's online platform offers convenience and easy accessibility. Everything you need for buying or selling a property—from ID checks to contract e-signatures—is done online via our client-friendly dashboard. You can manage your transaction anytime, from anywhere using your mobile device. In addition, our phone support ensures that 95% of client calls are answered on the first ring.
Can I rely on Juno for professional and efficient conveyancing?
Absolutely! Juno's team is backed by legal experts with national experience who focus on residential transactions in England and Wales. Our team utilises smart tech processes to provide fast and efficient services. We have a 4.8/5 TrustPilot score and numerous positive customer reviews, reflecting our commitment to providing quality service.
How much does conveyancing cost in Ilford?
Use our online tool to get an instant quote for conveyancing below:
Choose Juno for simpler, clearer, faster conveyancing in Ilford
Track progress and reply to questions with our mobile-friendly online dashboard
Targeted updates to help you and your estate agent keep things moving forward
Do everything online, including ID checks and e-signatures on contract documents
Get a dedicated team of conveyancers who'll keep you updated every step of the way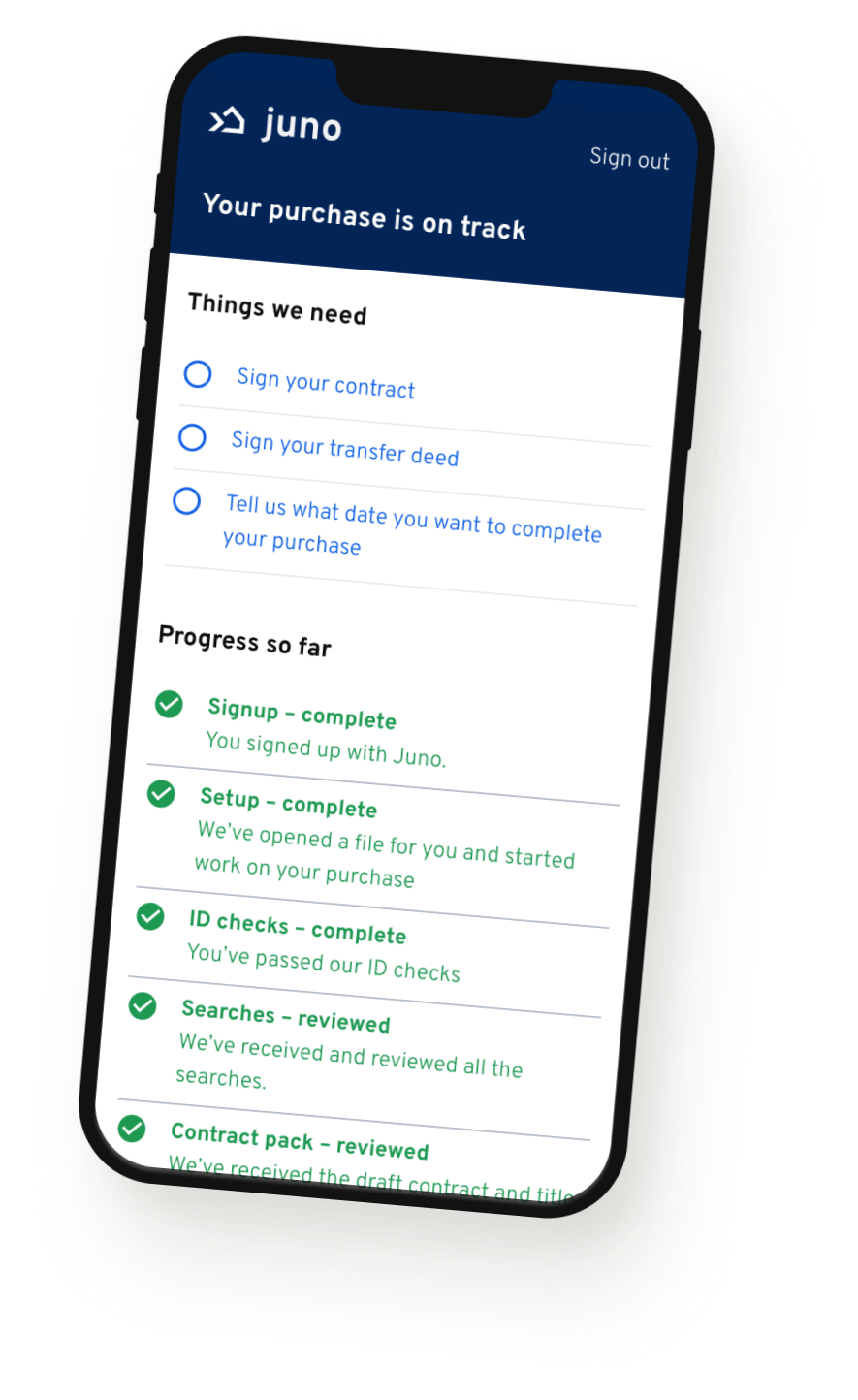 ⭐️⭐️⭐️⭐️⭐️
I had tried other conveyancers but was not very impressed. Like everyone the internet was next and Juno came up. Checked the reviews and they were positive. So I used them for the sale of my house. I am very impressed with them and the dashboard they use. They kept me up to date with the total experience. Very reasonably priced.
⭐️⭐️⭐️⭐️⭐️
Juno has an online portal updating you every step of the way, it was so convenient and we received emails when there was something for us to do. Their portal is where all the required forms are completed and electronically signed. If we needed to call them our phone calls were answered quickly and if not they will call you back!
⭐️⭐️⭐️⭐️⭐️
Amazing service overall - used Juno for the purchase of my property and will definitely recommend to friends and family. The team made the entire process easy and I really like their online portal which allows you to track the work being done.