Conveyancing solicitors in Ipswich
Get peace of mind, with fixed price quotes and second chance guarantee
Complete your move up to two months faster than most other law firms
Rated Excellent on Trustpilot, trusted by thousands of people every year
Conveyancing in Ipswich
Ipswich, the county town of Suffolk, is rich in history and culture. With its bustling town centre, picturesque waterfront, and proximity to the scenic Suffolk countryside, Ipswich is a sought-after location for homebuyers and property investors. Dealing with property transactions in Ipswich requires a reliable conveyancing firm, well-versed in local nuances and nation-wide regulations.
Why Choose Juno for Conveyancing?
When you are dealing with something as vital as property conveyancing, it's important you choose a firm that combines expertise, efficiency, and innovation. Here are compelling reasons to choose Juno for your conveyancing in Ipswich:
Efficiency: Juno completes the conveyancing process 8 weeks faster than the national average.
Transparency: No hidden fees and an instant quote service for full clarity.
Convenience: All processes including ID checks and contract signing can be done online.
Relibility: With an excellent Trustpilot rating and accreditation from all major UK lenders, Juno is a name you can trust.
Customer-First Approach: Weekly progress emails, an accessible online dashboard, and a friendly phone support team keep you informed at every step.
Risk-Free: Offers include a 'Second Chance Guarantee' on purchases and a 'No Completion No Fee' on sales.
Expert Team: A skilled team of property lawyers and tech experts ensure an unmatched service.
Online vs. Local Conveyancers: The Juno Advantage
Choosing an online conveyancer like Juno comes with distinct advantages. First, the national coverage offers expertise in property law that spans England and Wales, which a local, Ipswich-specific conveyancer may not provide. Second, our digital-first approach allows you to manage the whole process from any mobile device, making it easier to sell or buy a property.
With Juno's online dashboard, you can track progress, answer queries, and check documents without the need to print anything or visit a physical office – a time-saving convenience our clients value. And despite being online, Juno offers regular proactive updates through calls and emails, ensuring that you always have a real person on the other side when you need assistance.
Leverage these benefits that come with our seamless online service and handle your conveyancing needs with Juno, the clear choice in Ipswich.
Frequently Asked Questions
How does the conveyancing process work for buying a property in Ipswich with Juno?
Buying a property requires a systematic process to ensure every legal aspect is covered. Here at Juno, we handle the following steps:
Sign-Up:This is your first step towards finalising your property purchase.
Mortgage and Funding: Confirm your finances and mortgage before moving to the next step.
Search Reports: We order and review searches relevant to the property for any potential issues.
Contract Pack: We receive drafts of the contract, Land Registry records and other information provided by the seller's solicitor.
Survey: We strongly recommend that our clients initiate a survey for the property in question in addition to mortgage valuations.
Enquiries: We prompt the seller's lawyer to clarify or address any potential legal stumbling blocks with the property.
Report: A report is compiled based on the findings and shared with the client.
Exchange: Once everything is in order, contracts between buyer and seller are exchanged.
Completion: The purchase of the property is finalised upon receipt of payment.
Registration: The buyer is officially registered as the new owner of the property at the Land Registry.
How does the conveyancing process work for selling a property in Ipswich with Juno?
For selling a property, we follow these steps:
Sign Up: Get started by signing up with us.
Contract Pack: We prepare a contract, gather Land Registry documents, and forward them to the buyer's solicitor.
Property Information Forms: You provide detailed information and necessary documents for the property you're selling, which can all be shared online. We then review the information and send it to the buyer's solicitor.
Management Pack: If you're selling a leasehold property, you'll have to request a management pack from your management company.
Mortgage Statements: Any relevant mortgage statements will need to be provided.
Enquiries: Potential questions or enquiries are addressed.
Exchange: Contracts are exchanged once agreement is reached.
Completion: The sale is finalised, and the property officially changes hands.
How long does conveyancing take in Ipswich?
The national average for conveyancing is 20 weeks, but Juno averages a mere 12 weeks to completion on a freehold. Keep in mind that leaseholds may take longer due to additional correspondence with management companies. If both the seller and buyer use Juno for the same transaction, we typically complete 2-3 weeks quicker.
What searches are involved in conveyancing?
The main searches we conduct for conveyancing are local authority checks, environmental evaluations, and water & drainage searches to ensure you're aware of all relevant factors related to the property.
What issues should buyers consider when purchasing a home in Ipswich?
When buying a home in Ipswich, consider the property's proximity to amenities, the overall market trends, transport connections, and flood risk. Ipswich also has a mix of leasehold flats and freehold houses, so make sure you understand the implications of the type of ownership before proceeding.
What documents do I need to buy a house?
To purchase a property, you'll need photo identification (such as a passport or driving licence), proof of funds (bank statements), and a mortgage offer if you're buying with a mortgage.
What documents do I need to sell a house?
To sell a house, you'll need photo identification, details of the mortgage, and any other relevant documents. Our legal team will guide you through creating or finding required paperwork, such as the Energy Performance Certificate (EPC), property information forms (TA6 and TA10), leasehold management packs, etc.
Can I handle conveyancing online with Juno?
Absolutely! Juno is designed to bring the entire conveyancing process to your fingertips. From signing up to final completion, every step is managed online. We provide clear, transparent updates at every stage and keep you informed via calls and emails.
How secure is online conveyancing with Juno?
Juno ensures top-tier data security with encrypted data transactions and strict privacy policies. We are fully compliant with data protection regulations to ensure your personal information is completely safe.
Is online conveyancing suitable for first-time buyers?
Certainly. In fact, our online portal is designed to be user-friendly, making it ideal for first-time buyers. Each step of the process is clearly outlined, and our team is on hand to support you through each stage. The ability to tackle the conveyancing process from anywhere at any time makes the journey much more convenient and less intimidating for first-time buyers.
How much does conveyancing cost in Ipswich?
Use our online tool to get an instant quote for conveyancing below:
Choose Juno for simpler, clearer, faster conveyancing in Ipswich
Track progress and reply to questions with our mobile-friendly online dashboard
Targeted updates to help you and your estate agent keep things moving forward
Do everything online, including ID checks and e-signatures on contract documents
Get a dedicated team of conveyancers who'll keep you updated every step of the way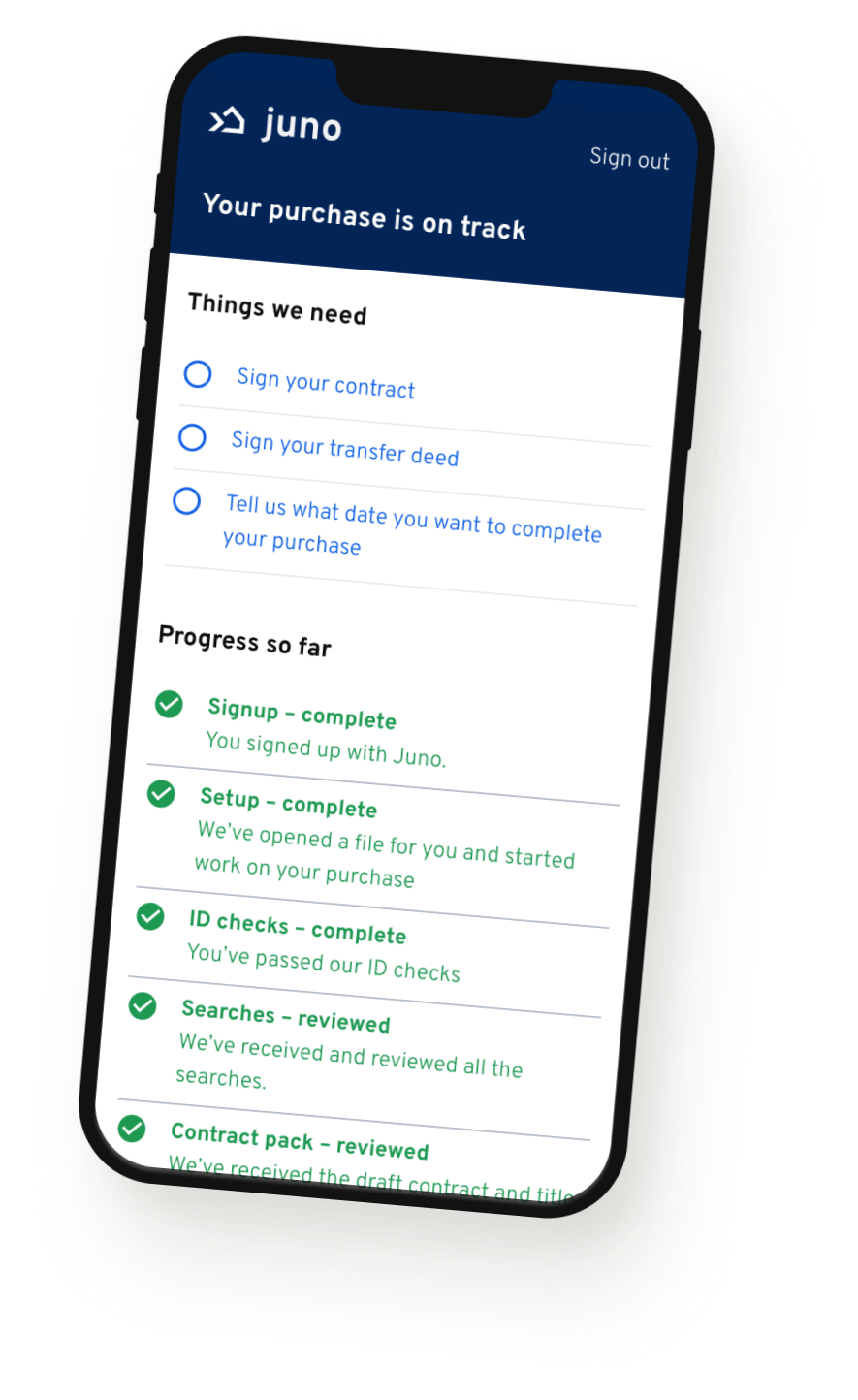 ⭐️⭐️⭐️⭐️⭐️
I had tried other conveyancers but was not very impressed. Like everyone the internet was next and Juno came up. Checked the reviews and they were positive. So I used them for the sale of my house. I am very impressed with them and the dashboard they use. They kept me up to date with the total experience. Very reasonably priced.
⭐️⭐️⭐️⭐️⭐️
Juno has an online portal updating you every step of the way, it was so convenient and we received emails when there was something for us to do. Their portal is where all the required forms are completed and electronically signed. If we needed to call them our phone calls were answered quickly and if not they will call you back!
⭐️⭐️⭐️⭐️⭐️
Amazing service overall - used Juno for the purchase of my property and will definitely recommend to friends and family. The team made the entire process easy and I really like their online portal which allows you to track the work being done.