Conveyancing solicitors in Leeds
Get peace of mind, with fixed price quotes and second chance guarantee
Complete your move up to two months faster than most other law firms
Rated Excellent on Trustpilot, trusted by thousands of people every year
Choose Juno for simpler, clearer, faster conveyancing in Leeds
Track progress and reply to questions with our mobile-friendly online dashboard
Targeted updates to help you and your estate agent keep things moving forward
Do everything online, including ID checks and e-signatures on contract documents
Get a dedicated team of conveyancers who'll keep you updated every step of the way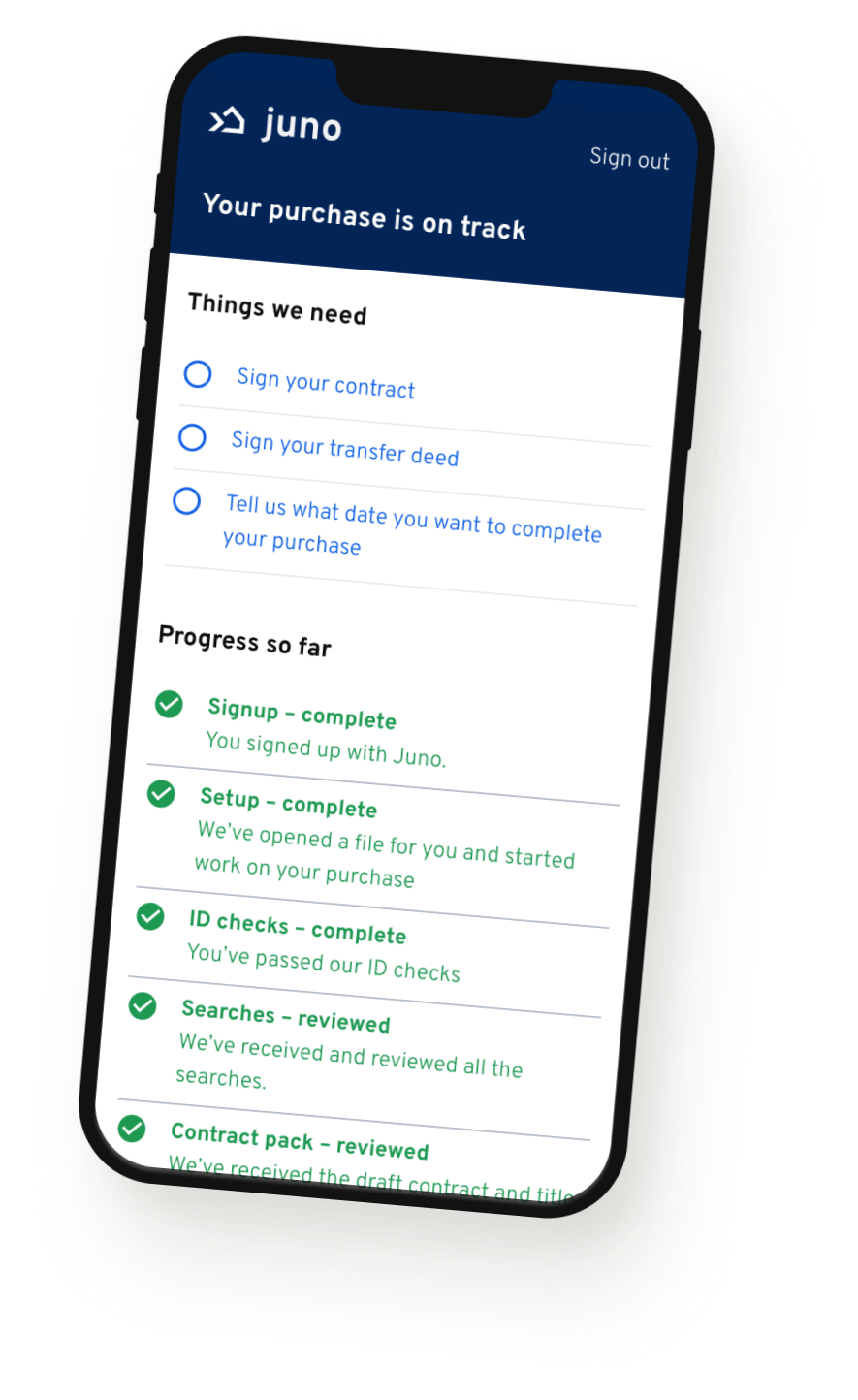 We've helped 68 people move house in Leeds
A team of your own
Juno's lawyers and paralegals work together in small teams, so there's always someone available to work on your case. That means you won't be kept waiting if one of your team is off sick or away for a few days.
Quick and easy to sign up
Sign up online now and get things moving. We can get our checks underway even if you're waiting for the perfect property or the right offer. It takes less than 5 minutes to sign up with us, and we'll get you ready to move as quick as we can.
Approved by your lender
We're ready to work with over 70 mortgage lenders, including all major UK banks and building societies. So you can choose Juno with confidence, even if you've not yet decided which mortgage you're getting.
⭐️⭐️⭐️⭐️⭐️
Juno has an online portal updating you every step of the way, it was so convenient and we received emails when there was something for us to do. Their portal is where all the required forms are completed and electronically signed. If we needed to call them our phone calls were answered quickly and if not they will call you back!
⭐️⭐️⭐️⭐️⭐️
Best customer service I have received ever! Process was made simple, fast, conveyancing team knew what they were doing and the rest of the team always answered any question extremely fast. The dashboard system meant that we would receive regular updates without even needing to ask!
⭐️⭐️⭐️⭐️⭐️
Excellent service throughout with regular updates and easy to complete questionnaires as the sale progressed. The online dashboard was excellent for keeping on top of the process. Communication was prompt and phone calls answered quickly by Juno's team.