Conveyancing solicitors in London
Get peace of mind, with fixed price quotes and second chance guarantee
Complete your move up to two months faster than most other law firms
Rated Excellent on Trustpilot, trusted by thousands of people every year
Conveyancing in London
Navigating through the bustling property market of London can be quite daunting. With its unique blend of historic architecture and modern homes, alongside complicated leaseholds and freeholds, it's crucial that your conveyancing is managed by experts. Conveyancing is the legal process involved in buying and selling properties, and in the vibrant city of London, it is essential to manage it proficiently. Welcome to Juno, your reliable and efficient online conveyancing specialist.
Why Choose Juno for Conveyancing in London
Choosing the right conveyancing service is crucial to ensure your transaction runs as smoothly as possible. Juno's unique selling propositions offers a myriad of reasons, here are some top points for why Juno is the best choice for conveyancing service in London:
Proactive and Efficient: Our conveyancing process is notably faster, averaging 8 weeks faster than the national average.
Extended Office Hours: Our friendly phone support and online dashboard are always available for queries and updates.
Transparent and Immediate Pricing: Receive instant quotes online with guaranteed legal fees with no hidden extras.
Digital Convenience: All necessary procedures, from ID checks to contract e-signatures, can be done online using our dashboard.
Second Chance Guarantee: We offer peace of mind with our 'Second Chance Guarantee' - if your first property purchase falls through for any reason, your money will be credited to a second attempt.
No Completion, No Fee Policy: You pay nothing unless your sale reaches completion, excluding any disbursements or case opening fees.
Trusted and Highly Rated: We are trusted by thousands every year and have an exceptional rating on Trustpilot.
Benefits of an Online Conveyancing Firm
Choosing an online conveyancing firm, like Juno, over a local conveyancer brings numerous benefits.
With Juno, you can manage your conveyance from anywhere in the world. The need for in-person meetings, print-outs, and documents are a thing of the past. From contract e-signatures to digital ID checks, every step is done conveniently online.
Juno's online services also include a mobile-friendly dashboard where you can track your case's progress, reply to queries, and receive regular updates. This eliminates any geographical limitations, letting you control and track your property transaction at any time.
We offer national expertise with local insights, working across England and Wales, focusing on residential transactions. Our expert team is made up of experienced property lawyers and tech experts who have built some of the most successful online platforms. We offer clearer, simpler, and faster conveyancing, lead by cutting-edge technology and a proactive legal team.
With Juno, rest assured, you are choosing a regulated service trusted by all major UK lenders, making your property transaction smoother and stress-free.
Frequently Asked Questions
How does the conveyancing process work when buying a property in London?
The conveyancing process for a purchase at Juno involves the following steps:
Sign-Up: You can begin your conveyancing process online by signing up with Juno.
Mortgage and Funding: Secure your mortgage and funding for the property purchase.
Search Reports: Juno will order and review search reports on the property.
Contract Pack: The seller's lawyer will send us a draft contract, Land Registry records for the property, and a pack of information provided by the seller.
Survey: We recommend all our clients get a survey, in addition to a mortgage valuation.
Enquiries: Our team will ask the seller's lawyer to clarify and/or fix any legal issues with the property.
Report: We prepare a report based on our findings.
Exchange: The contracts are exchanged and the deal is legally binding.
Completion: The remaining funds are transferred, and the keys are handed over.
Registration: Lastly, the purchase is registered with the Land Registry.
How does the conveyancing process work when selling a property in London?
The conveyancing process for selling a property includes the following steps:
Sign Up: Begin with signing up on the Juno platform.
Contract Pack: Our team will draft a contract, obtain land registry records and send it across to the buyer's lawyer.
Property Information Forms: You'll have to provide detailed information and documents about the property you're selling. This process is made easy and convenient as it can be done online with Juno.
Management Pack: If your property is a leasehold, you'll request this from your management company.
Mortgage Statements: You will have to provide the latest mortgage statements.
Enquiries: We'll respond to any queries the buyer's lawyer has.
Exchange: Contracts are exchanged and the sale is legally binding.
Completion: Funds from the sale are transferred.
How long does conveyancing take in London with Juno?
Conveyancing in London takes an average of 20 weeks as per national data. However, with Juno's streamlined and efficient process, we complete conveyancing 8 weeks faster on average, thus it takes around 12 weeks for a freehold property. Leaseholds might take a bit longer due to additional correspondence with the management company. If both the seller and purchaser use Juno for the same transaction, we can usually complete the process 2-3 weeks quicker.
What searches are involved in conveyancing?
Conveyancing involves a number of searches such as local authority checks, environmental searches and water & drainage searches. It is crucial to ensure there are no potential problems that might affect the property's value or any legal issues that might impede the purchase.
What issues should buyers consider when purchasing a home in London?
Buyers in London should take into account the property's locality, proximity to transport links, the condition and age of the property, the overall property market in London and issues specific to London such as congestion charges and availability of parking spaces. Juno's expert team can help guide you through all of these elements.
What documents do I need to purchase a property in London?
To purchase a property, you will need a valid photo ID such as a passport or a driving license, a proof of funds which can be provided through bank statements and the mortgage offer for the property purchase.
What documents do I need to sell a property in London?
To sell a property, you will need a photo ID - passport or driving licence - and details of your mortgage. Juno's legal team will help you assemble or create the rest of the documents required like the EPC, property information forms TA6 and TA10, and leasehold management packs.
How does Juno help overcome the challenges of conveyancing in London?
Juno has a team of experienced property lawyers who understand the specific rules, regulations, and circumstances relating to the London property market. They offer guidance throughout every step of the conveyancing process making it simpler and faster.
Can I do conveyancing from outside London or even outside England with Juno?
Yes, Juno operates all across England and Wales and all processes from contract e-signatures to ID checks can be done online irrespective of your geographical location.
How does Juno ensure the conveyancing process is efficient and transparent?
Juno has a user-friendly and mobile-responsive online dashboard where you can track your case's progress, respond to queries, and receive regular updates. Additionally, our pricing is transparent with no hidden extras. Maintaining trust and efficiency, we even offer a 'No Completion, No Fee' policy.
Is Juno's conveyancing service regulated?
Yes, Juno is a regulated service trusted by all major UK lenders ensuring a smoother and a stress-free property transaction.
How much does conveyancing cost in London?
Use our online tool to get an instant quote for conveyancing below:
Choose Juno for simpler, clearer, faster conveyancing in London
Track progress and reply to questions with our mobile-friendly online dashboard
Targeted updates to help you and your estate agent keep things moving forward
Do everything online, including ID checks and e-signatures on contract documents
Get a dedicated team of conveyancers who'll keep you updated every step of the way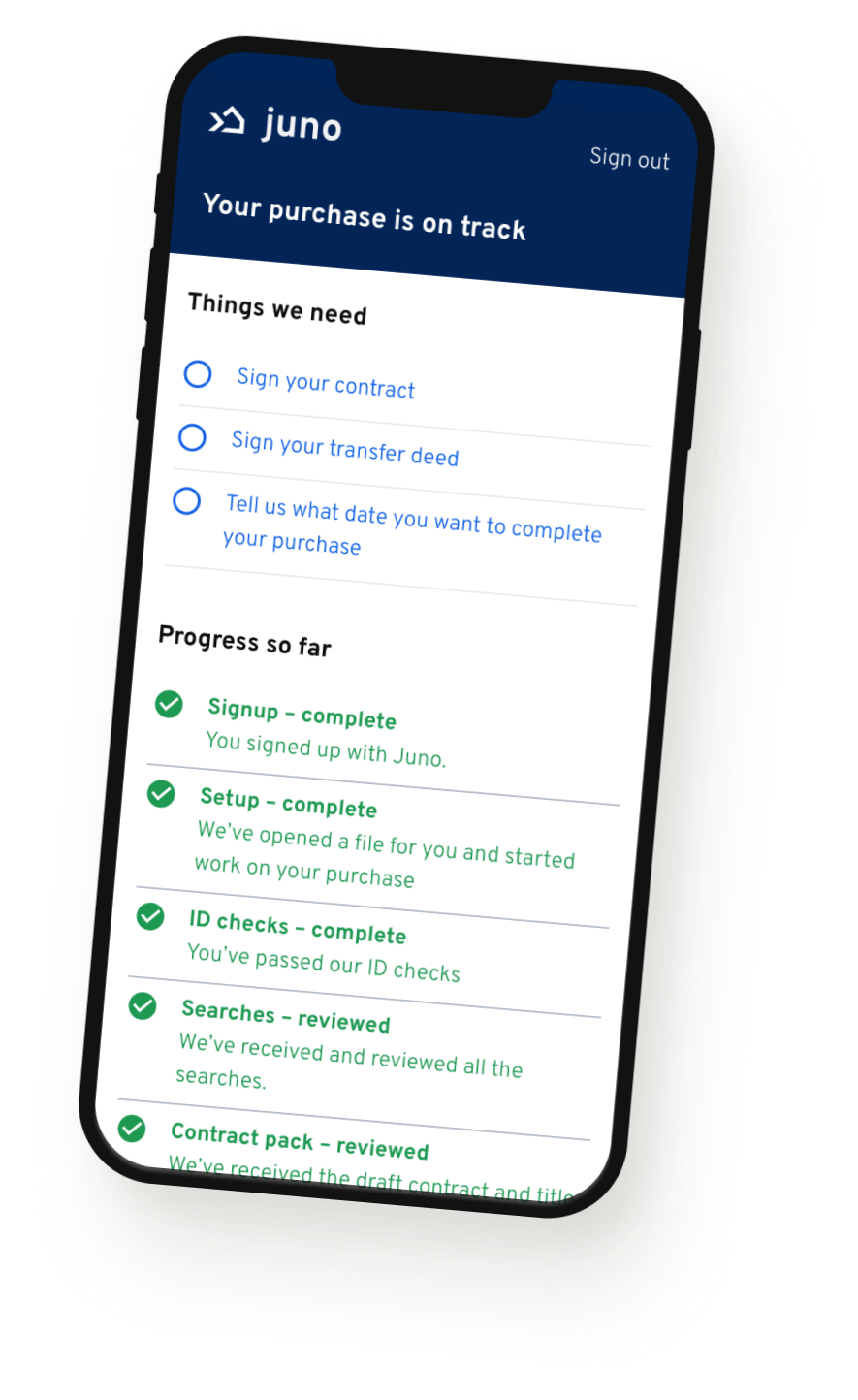 ⭐️⭐️⭐️⭐️⭐️
Excellent service throughout with regular updates and easy to complete questionnaires as the sale progressed. The online dashboard was excellent for keeping on top of the process. Communication was prompt and phone calls answered quickly by Juno's team.
⭐️⭐️⭐️⭐️⭐️
We were a bit nervous about who to use but Juno made everything so easy with their Dashboard that tells you exactly where you are in the process, meaning you never have to chase them for an update. All the actions they had to take were taken within 24h, which was great as we were keen to complete the sale fast.
⭐️⭐️⭐️⭐️⭐️
Amazing service overall - used Juno for the purchase of my property and will definitely recommend to friends and family. The team made the entire process easy and I really like their online portal which allows you to track the work being done.