Conveyancing solicitors in Luton
Get peace of mind, with fixed price quotes and second chance guarantee
Complete your move up to two months faster than most other law firms
Rated Excellent on Trustpilot, trusted by thousands of people every year
Conveyancing in Luton
Whether you are purchasing a cosy family house on Bushmead Road, investing in a versatile commercial property near Capability Green, or selling a modern apartment in the heart of Luton, you need an efficient and effective conveyancing service. With Juno, you get to access highly knowledge-driven conveyancing services right in the heart of Luton, allowing you to ease through the legal, administrative, and paperwork affairs linked with property exchanges smoothly.
Why Choose Juno For Your Conveyancing Needs in Luton?
Simplified Process: Juno makes conveyancing faster and clearer. On average, we complete the process in 12 weeks, which is 8 weeks faster than the national average.
Online Convenience: Monitor the progression of your case anytime, anywhere with our mobile-friendly online dashboard.
Proactive & Transparent Communication: Get regular email updates about your case, no-surprise fee structure, and friendly phone support, where we answer 95% of calls the first time.
Trusted Service: With a stellar 4.8/5 rating on Trustpilot, we carry a badge of trust attributed by our thousands of satisfied clients.
Assured Guarantees: Juno's Second Chance Guarantee on purchases and no completion no fee policy on sales assures you of financial safety.
Approved by Top Lenders: Recognised and approved by all major UK lenders, ensuring smooth transactions.
Expert Team: Our mix of experienced property lawyers and tech experts (who have built websites like The Guardian and GOV.UK) make the process of conveyancing in Luton a breeze.
Benefits of an Online Conveyancing Firm Over a Local Conveyancer
Choosing an online conveyancing firm like Juno, especially for transactions in bustling towns like Luton, comes with a range of benefits.
National Expertise: Avail the experience from our vast national coverage, harnessing local knowledge concerning property transactions from all across England and Wales.
Green and Hassle-free: Say goodbye to paperwork! As a digital-first conveyancing firm, all our processes including ID checks to contract e-signatures can be effortlessly completed online through our client dashboard.
Save Valuable Time: No need to schedule physical appointments or office visits. You can buy or sell a property, check updates, and monitor progress, even on the go, using just your mobile phone.
Regulated and Reliable: Juno is a firm regulated by the Council for Licensed Conveyancers (CLC), assuring you superior quality service, keeping your transaction and related information completely secure.
Frequently asked questions
How does the conveyancing process work when buying a property in Luton?
The conveyancing process for buying a property involves a few stages:
Sign-Up with Juno.
We will assist you with your Mortgage and Funding.
Juno will order and review Search Reports.
The seller's lawyer sends us a draft Contract Pack, which includes the Land Registry records for the property, and a pack of information provided by the seller.
We highly recommend that all our clients get a Survey, in addition to any mortgage valuation.
Enquiries: We ask the seller's lawyer to clarify and/or fix any legal issues with the property.
We will then provide a Report.
Agreement to terms or conditions - Exchange.
Completion of the sale.
The property is Registered under your name.
How does the conveyancing process work when selling a property in Luton?
When selling a property the process is as follows:
Sign Up with Juno.
We'll draft a Contract Pack, obtain land registry records and send it across to the buyer's lawyer.
We'll ask you to provide Property Information Forms, providing detailed information and documents for the property you're selling. You can complete this process online with Juno.
If you're selling a leasehold property, you'll request a Management Pack from your management company.
Provide the latest Mortgage Statements.
Responding to any Enquiries.
Agreement to conditions of sale - Exchange.
Completion of the sale.
How long does conveyancing take in Luton?
The national average for completing the conveyancing process is 20 weeks. However, Juno is typically 8 weeks faster, averaging 12 weeks to completion on a freehold property. Leasehold properties can take longer due to the need to correspond with the property's management company. If a seller and purchaser both use Juno for the same transaction, completion times can be even quicker – usually around 2-3 weeks faster.
What searches are involved in conveyancing?
When buying property, the main searches conducted during conveyancing are local authority checks, environmental surveys, and water & drainage searches.
What should I consider when buying a house in Luton?
When buying property in Luton, you should consider property taxes, proximity to transportation, the quality of local schools, any planned developments which could influence property value, and other regional factors specific to Luton.
What documents do I need to buy a house in Luton?
To buy a house, you will need to provide photo ID (passport or driving license), proof of funds (bank statements), and your mortgage offer.
What documents do I need to sell a house in Luton?
To sell a house, you'll need a photo ID (passport or driving licence), and details of your mortgage. Our legal team will guide you through creating or finding the other required documents such as the Energy Performance Certificate (EPC), property information forms TA6 and TA10, leasehold management packs etc.
Why should I consider Juno for my conveyancing needs in Luton?
Juno makes the conveyancing process faster and clearer, completing the process on average 8 weeks faster than the national average. We provide an online dashboard offering updates on your case, and our services come with no hidden fees.
How do I know if the property is freehold or leasehold?
The property's land registry record will indicate whether it is leasehold or freehold. If it's a leasehold, the record will also show the details of the lease, including the landlord's name and the length of the lease.
Does Juno help with property purchases/sales anywhere else other than Luton?
Yes, Juno provides efficient and effective conveyancing services across all of England and Wales, making it easy for you to manage the property transfers irrespective of the location.
How much does conveyancing cost in Luton?
Use our online tool to get an instant quote for conveyancing below:
Choose Juno for simpler, clearer, faster conveyancing in Luton
Track progress and reply to questions with our mobile-friendly online dashboard
Targeted updates to help you and your estate agent keep things moving forward
Do everything online, including ID checks and e-signatures on contract documents
Get a dedicated team of conveyancers who'll keep you updated every step of the way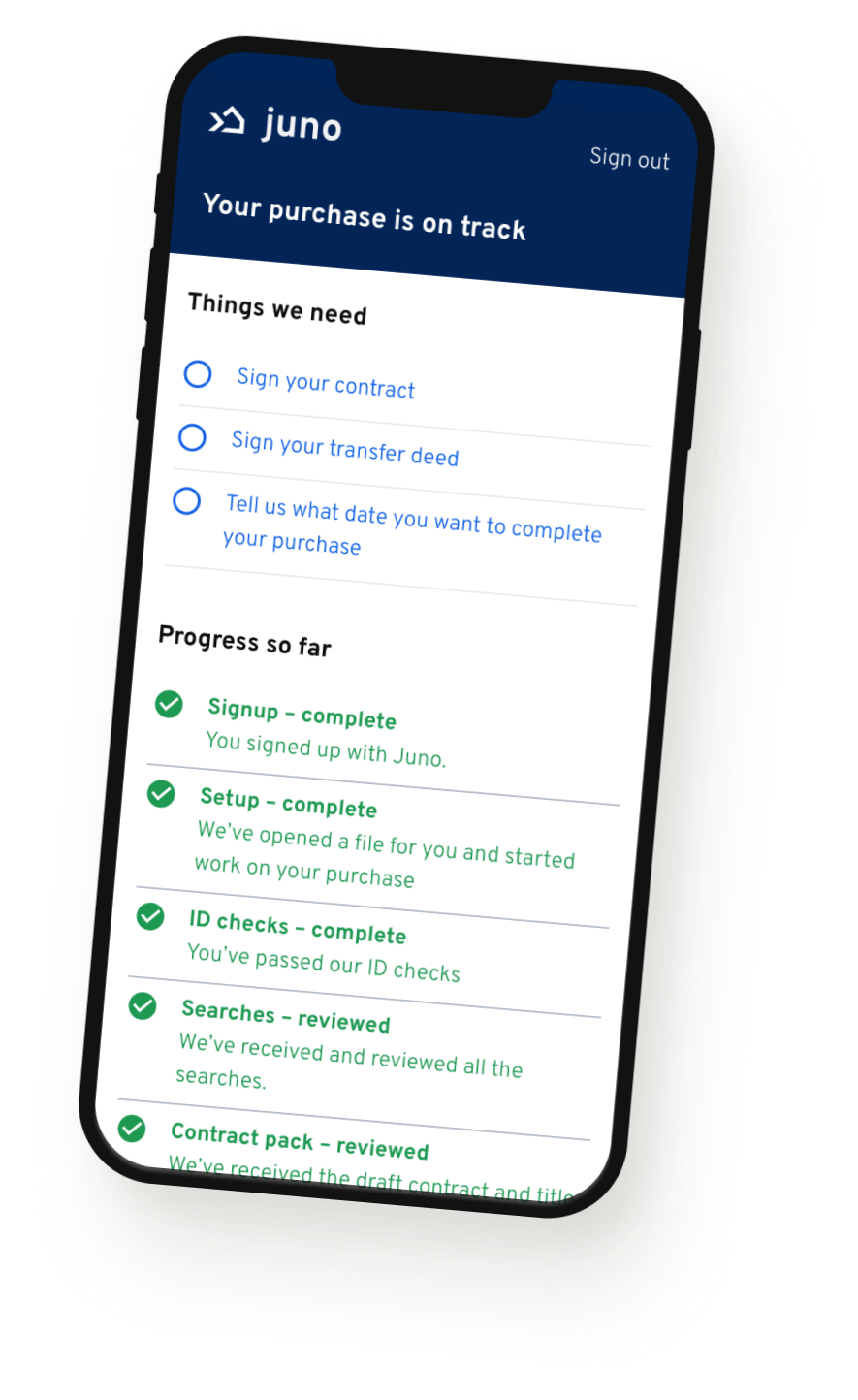 ⭐️⭐️⭐️⭐️⭐️
Best customer service I have received ever! Process was made simple, fast, conveyancing team knew what they were doing and the rest of the team always answered any question extremely fast. The dashboard system meant that we would receive regular updates without even needing to ask!
⭐️⭐️⭐️⭐️⭐️
Excellent service throughout with regular updates and easy to complete questionnaires as the sale progressed. The online dashboard was excellent for keeping on top of the process. Communication was prompt and phone calls answered quickly by Juno's team.
⭐️⭐️⭐️⭐️⭐️
The updates are regular by email, the dashboard is thorough, the documentation is so easy to load and access and when you do need to speak to them you can get them on the phone and they explain things properly. All that and they are a fantastic price, unbelievable to me that the service is provided at such a low cost.