Conveyancing solicitors in Nottingham
Get peace of mind, with fixed price quotes and second chance guarantee
Complete your move up to two months faster than most other law firms
Rated Excellent on Trustpilot, trusted by thousands of people every year
Welcome to Conveyancing in Nottingham
Welcome to Nottingham, the city renowned for its connection to the Robin Hood legend and the century-old Goose Fair. As the heart of England, Nottingham offers a unique blend of traditional charm and modern living that make it an attractive location for home buyers and sellers alike. The city has much to offer, from its England's oldest pub, Ye Olde Trip To Jerusalem, to its vast network of man-made caves beneath the streets, and resilient property market. Nottingham's growing population and technology-driven city plan ensures that conveyancing needs in the city are on the rise. With Juno, we simplify these complexities and provide seamless conveyancing services that align with Nottingham's thirst for innovation.
Why Juno is Your Ultimate Choice for Conveyancing
Simpler, clearer, faster: We have redefined conveyancing by making it an easy-to-understand, quick process that doesn't leave you lost in legal jargon.
Faster Conveyancing: We beat the national average delivery time by an impressive 8 weeks, completing in just 12 weeks on average.
Proactive Communication: Regular email updates and an online dashboard keep you abreast of your case's progression. Plus, 95% of our phone calls are answered the first time.
Instant Quotes and Transparent Pricing: You can expect immediate online or phone quotes with no hidden fees—guaranteed.
Trustworthiness: A 4.8/5 Trustpilot rating confirms our dedication to provide top-notch service trusted by thousands each year.
Customer-friendly Policies: We offer a Second Chance Guarantee on purchases and a no completion, no fee policy on sales.
Expertise and Recognition: Approved by all Major UK Lenders, our experienced property lawyers and tech experts are leaders in the field.
The Online Advantage: Choosing Juno over Local Conveyancers
While local conveyancers can sometimes offer a personal touch, online conveyancing firms like Juno bring a unique set of benefits to the table:
National Expertise: Our experience cuts across the breadth of the UK property market. This broader exposure enhances our understanding of property laws and regulations across different regions, including Nottingham.
Paperless Convenience: With us, there's no fuss or waiting around. From ID checks to contract e-signatures, all our processes can be done online via our client dashboard. You can buy or sell a property conveniently using just your mobile phone, without needing to print documents or make unnecessary office visits.
Round-the-clock Accessibility: Our online dashboard enables you to track progress and get updates at any time that suits you. With Juno, conveyancing doesn't have to disrupt your day-to-day life.
Strict Regulation: Juno operates under the rigorous regulation of the CLC, ensuring you receive high-standard, trustworthy service.
Frequently Asked Questions
How does the conveyancing process work when buying a property?
The conveyancing process for buying a property includes several steps:
Sign-Up: Register online or give us a call.
Mortgage and Funding: Organise your mortgage and how you're going to pay for your new home.
Search Reports: We order and review property search reports.
Contract Pack: The seller's lawyer sends us a draft contract, the Land Registry records for the property, and an information pack provided by the seller.
Survey: We recommend all our clients get a survey, in addition to any mortgage valuation.
Enquiries: We ask the seller's lawyer to clarify and/or fix any legal issues with the property.
Report: We bundle all the above information into one easy-to-read report.
Exchange: You pay your deposit, and the completion date is set.
Completion: The remaining money is transferred, and you receive the keys to your new home.
Registration: We register the property in your name with the Land Registry.
How does the conveyancing process work when selling a property?
The conveyancing process for sellers involves the following steps:
Sign-Up: Register online or give us a call.
Contract Pack: We'll draft a contract, obtain land registry records and send it to the buyer's solicitor.
Property Information Forms: We'll ask you to provide detailed information and documents about the property you're selling, all of which can be done online.
Management Pack: If you're selling a leasehold, you'll need to request this from your management company.
Mortgage Statements: You'll need to provide these to us.
Enquiries: You'll respond to any enquiries from the buyer's solicitor.
Exchange: Contracts are exchanged, legally committing you and the buyer to the sale.
Completion: The property is transferred to the buyer, and you receive your funds.
How long does conveyancing take in Nottingham?
Conveyancing in Nottingham averages around 12 weeks for a freehold sale or purchase which is 8 weeks faster than the national average of 20 weeks. If your purchase is a leasehold, it might take a bit longer due to correspondence with the management company. If the seller and purchaser both use Juno, we can usually complete 2-3 weeks quicker.
What searches are involved in conveyancing?
The main searches in the conveyancing process include local authority checks, environmental searches, and water & drainage searches to ensure there are no harmful defects or legal issues with the property.
What issues should buyers consider when purchasing a home in Nottingham?
When buying a home in Nottingham, buyers should consider the potential for growth in property value due to the city's growing population and technology-driven city plan. Nottingham's rich history and resilient property market make it a great location for homebuyers.
What documents do I need to buy a house?
You'll need a photo ID (such as a passport or driving license), proof of funds (like bank statements), and your mortgage offer.
What documents do I need to sell a house?
You'll need your photo ID (like a passport or driving licence), details of your mortgage, and other required documents for which Juno's legal team will guide you through the process.
Where can I track the progress of my conveyancing process?
Our online dashboard offers real-time updates on your conveyancing process. You can easily access this at any time that suits you.
Is Juno approved by lenders in Nottingham?
Yes, Juno is approved by all major UK lenders, thus providing a seamless conveyancing process for Nottingham residents buying a property on a mortgage.
Is online conveyancing secure?
Absolutely. At Juno, we operate under the rigorous regulations of the CLC, ensuring you receive a high-standard, trustworthy service. We've prioritised data security to ensure your personal and financial information remains confidential and secure.
How much does conveyancing cost in Nottingham?
Use our online tool to get an instant quote for conveyancing below:
Choose Juno for simpler, clearer, faster conveyancing in Nottingham
Track progress and reply to questions with our mobile-friendly online dashboard
Targeted updates to help you and your estate agent keep things moving forward
Do everything online, including ID checks and e-signatures on contract documents
Get a dedicated team of conveyancers who'll keep you updated every step of the way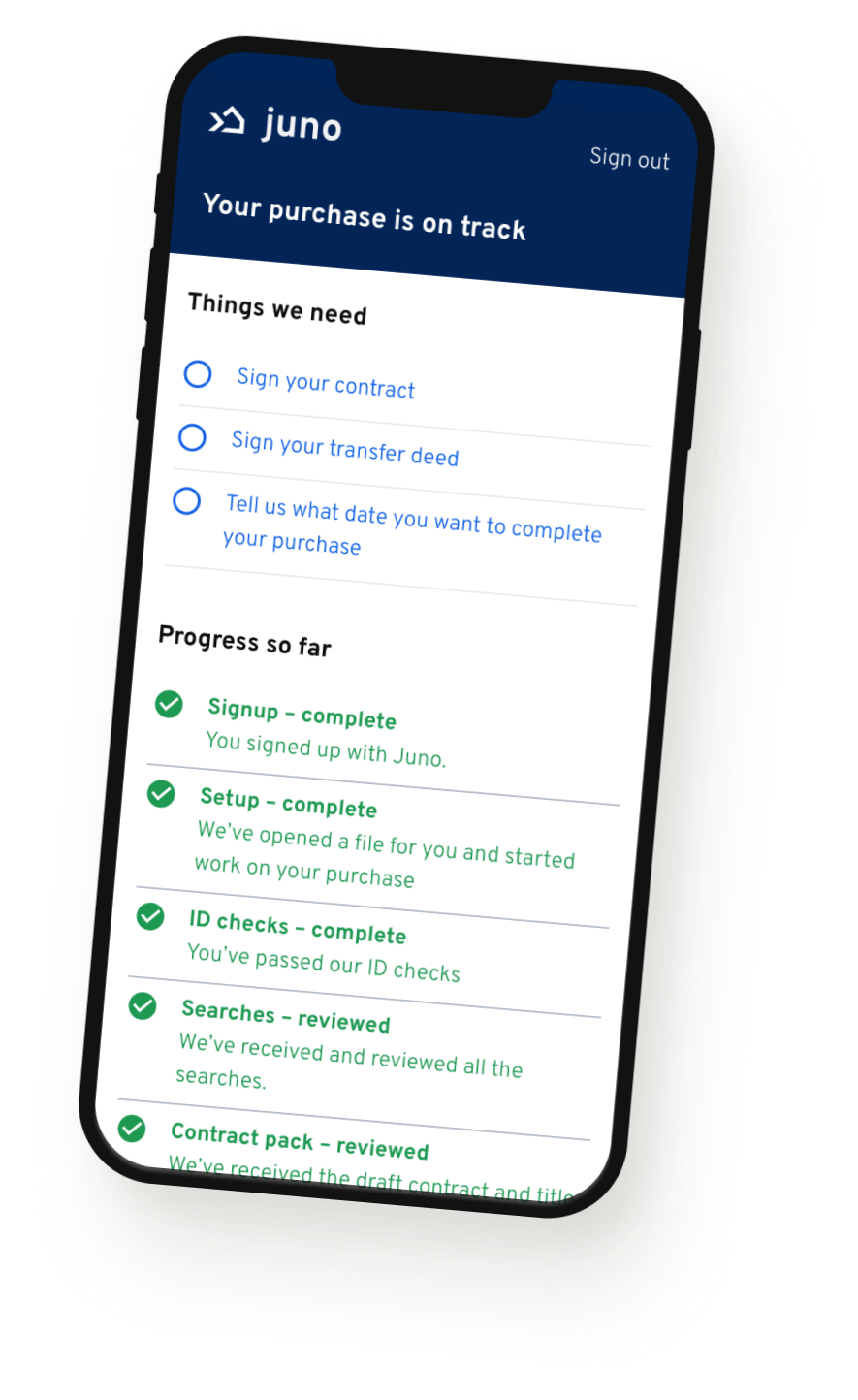 ⭐️⭐️⭐️⭐️⭐️
We were a bit nervous about who to use but Juno made everything so easy with their Dashboard that tells you exactly where you are in the process, meaning you never have to chase them for an update. All the actions they had to take were taken within 24h, which was great as we were keen to complete the sale fast.
⭐️⭐️⭐️⭐️⭐️
Juno has an online portal updating you every step of the way, it was so convenient and we received emails when there was something for us to do. Their portal is where all the required forms are completed and electronically signed. If we needed to call them our phone calls were answered quickly and if not they will call you back!
⭐️⭐️⭐️⭐️⭐️
Amazing service overall - used Juno for the purchase of my property and will definitely recommend to friends and family. The team made the entire process easy and I really like their online portal which allows you to track the work being done.